What's going on chez PlanetJune? Things seem quiet here lately for a combination of reasons. Getting bronchitis has upset my plans a bit (e.g. no July video tutorial as I can't really talk at the moment without coughing or wheezing), but I've also been working on lots of things that just aren't quite ready yet, so good things are coming! Here's a little peek at some of my upcoming designs: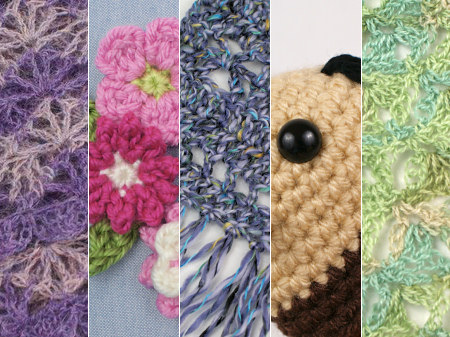 A new shawl design just needs cover photos and then it'll be ready to launch
A new floral donationware pattern with accompanying crochet-along – coming very soon
I've been working on a scarf during the Ravellenic Games which will become another new donationware pattern
The commissioned Sea Otter pattern is in the works (and looking very cute so far)
I've started crocheting another new shawl design – it's beautiful so far but it's going to be very large, so it'll be a longer-term project for me
And I have a few other fun secret projects which I'm not ready to share yet… (If the photo above looks surprisingly short on amigurumi, that's why – don't worry, I'm not abandoning my animal designs!)
So I'm not just sitting around feeling sick and sorry for myself (although there may be a bit of that going on too) – I need to keep taking things slowly until I can breathe properly again, but I'm still making progress on things, and I will have exciting new patterns for you soon 🙂
Review and Win contest
August's 'Review and Win' winner is Aleksandra S, with her Succulent Collection 2 review:

** This review is only for the string of pearls and the small pot as I didn't make anything else yet **

Stunning and very realistic result, very quick & easy pattern. I want to make more strings of pearls now 🙂

After only reading the tutorial / looking at the photos:
I was amazed how June managed the colourful pattern on top of the living stones – it's so easy and ingenious! I would like to say I was pleasantly surprised but the quality is just great as always 🙂
Congrats Aleksandra – I'll email you to find out which pattern you'd like as your prize 🙂
To be entered into this month's draw for a free pattern of your choice, just write a review of any product in my shop – thank you!