In the UK, there's a TV ad campaign for an energy company featuring a character called Zingy. It's a hugely popular series of commercials, but there's no official Zingy merchandise available (yet).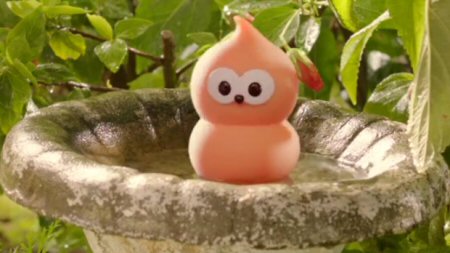 Zingy character and photo copyright Beatbots LLC, for EDF Energy commercials.
My sister is a big fan so I told her I'd make her a Zingy. Of course, I had no craft supplies with me, so I had to buy everything I needed locally – quite a challenge on the tiny island of Jersey! The best I could manage was DK weight yarn, a 3mm tapered hook (as far as I could tell, there are no in-line hooks available in the UK…), fibrefill, and some black and white felt. Here's what I came up with: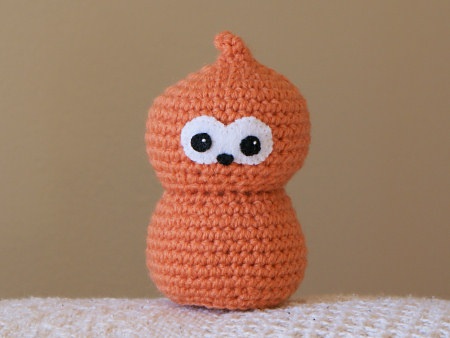 My crocheted Zingy fan art. I'm not licensed to produce a pattern for the Zingy character, so please don't ask me for one!
Considering the constraints, I think he turned out well, and the recipient is happy, so that's the main thing 🙂
I also had a chance to solve a problem using crochet: my sister had a dress with plastic rings connecting the bodice to the straps, but one of the rings had broken. The only way to replace the ring would be to unpick the stiching on the bodice loop and the strap, and re-stitch them around a new ring. And then I had the idea to crochet a ring directly, with no need to unpick any stitching. I bought some embroidery floss in a complementary colour, made a magic ring that passed through both strap loops, and crocheted over it, rotating it as I crocheted so the straps didn't get in the way.
Of course, I had to replace both rings so both sides of the dress would match, but it only took a few minutes to crochet each replacement ring, and it ended up looking prettier than with the original plastic rings: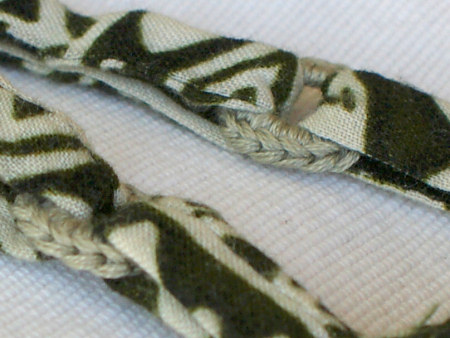 Close-up of new rings attaching the adjustable straps to the dress bodice, crocheted from embroidery thread.
I had packed yarn and hook to create my next crochet lace shawl design while I was away, but I didn't even get halfway through it as I only worked on it during my flights and on one evening. But that's okay – I can still look forward to finishing the shawl (I'm planning to do a beaded edging), and I'm glad I could do a little helpful crochet while I was visiting my family!