Rainbows are a symbol of hope and unity as well as being full of bright and cheerful colours. I think we could all do with some cheer right now, as well as encouraging hope and unity.
My hope is that my Happy Rainbows pattern will brighten your day while you crochet it, and then go on to brighten the day of everyone who sees it!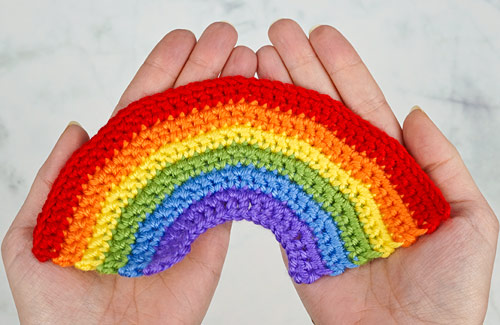 Use these cheerful rainbows to brighten anyone's day with a splash of colour and a message of hope and unity! Tape them to your window, hang them on the wall, or stitch them to a crocheted blanket or cushion as a colourful applique.
As buying yarn may be difficult at this time, I've designed this pattern so both rainbow sizes use easily-available worsted weight yarn. The only difference between the large and small rainbows is the hook size and the number of strands of yarn, so grab your brightest yarns from your stash and crochet some cheer!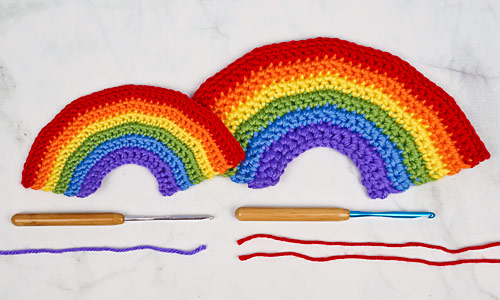 As I like to reward people who chose to donate for my donationware patterns, the PDF version of this pattern includes a bonus pattern for matching flat-bottomed rainbows (pictured below), and additional progress photos (including left-handed photos).

As always, the pattern is free for you to use, and you need only donate if you'd like to thank me for my time in creating it, or if you'd like the easy-to-print PDF version.
I hope you enjoy my Happy Rainbows pattern!