Changing Plans
I've spent most of January working on a beautiful new plant-in-a-pot design, which I'd intended to release by today. It's a big pattern, with lots of options and tips, but when I looked at everything together, although the pattern was great, the design itself wasn't quite as perfect as I'd like…
I try to spot these things before I've completed a 16-page pattern so I don't have to redo too much work, but that just didn't happen in this case. The design is very close, but it'll take a lot of crocheting and re-writing to make the small tweak the design needs to be really special.
Rather than hurry to get the pattern finished, I decided to postpone the release date by 2 weeks, to take the pressure off myself and make sure I'm 100% satisfied with the design before it goes public and am making decisions about what's best for the final pattern, not what I can manage in the available time.
It's disappointing to have to change plans, but now I've had time to adjust I'm glad I made this decision. As I enter my 10th year(!) of crochet design, it's becoming even clearer that each new design I add to my pattern catalogue has to be my best work. One standout new design adds far more value to my business in the course of time than I'd get from producing ten mediocre patterns – and there are no shortcuts if you want to end up with something extra-special.
PlanetJune on Instagram
For 2016, I've finally joined Instagram!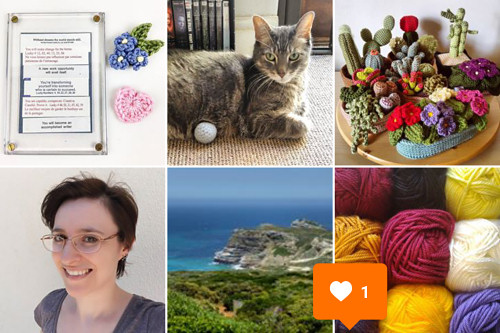 If you're on Instagram too:
See behind-the-scenes snippets of my work and life (like my first IG pics, above!) by following me @PlanetJune
Show off your pics of the lovely things you've made from my patterns by tagging them with the hashtag #planetjune
Hearts & Flowers CAL
Postponing my new pattern release has left us with time to enjoy a quick pre-Valentine's Day crochet-along – I hope you'll join in by making beautiful hearts and roses from my free (donationware) patterns…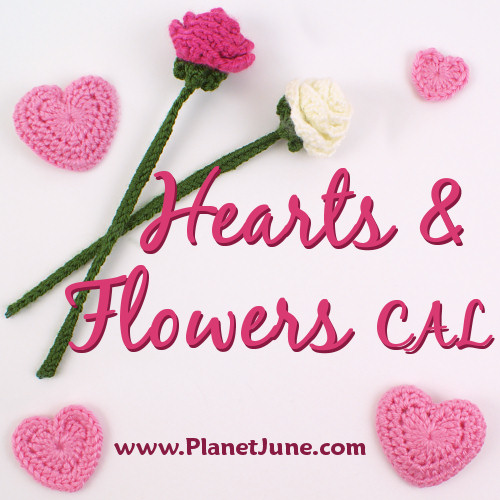 Love Hearts and Basic Rose are both fast to work up so I hope you'll have time to join in – even if it's just to make one tiny Love Heart (5 mins start to finish!)
Both the CAL patterns are available for free, but donations are always very much appreciated (and you'll get the nicely-formatted PDF file as a thank you for your donation of any size).
Sounds good? Crochet-along with us between now and Feb 14th in the PlanetJune Ravelry group 🙂
Review and Win contest
You're automatically entered in the next monthly draw every time you write a review for a PlanetJune pattern you've enjoyed – and you'll also be helping future customers make an informed decision about patterns they are considering buying.
It's time for a big catch-up today, as I didn't post monthly updates in December or January, so I have 3 winners to draw!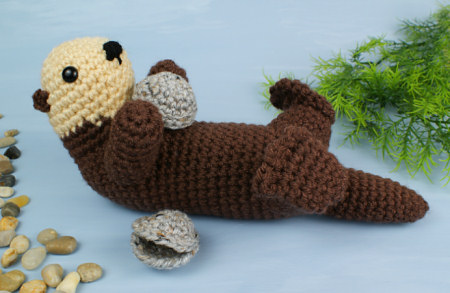 November's winner is Linda S's review of my Sea Otter pattern:
This is the sweetest little guy, and he was fun to make. Before I buying, I compared it to similar patterns and he came out way on top. I recommend this pattern.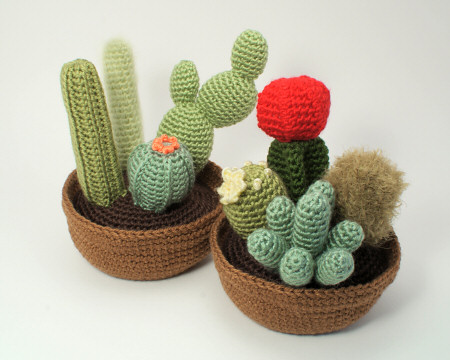 December's winner is Elizabeth L's review of my Cactus Collection 1 & 2 patterns:
Everything a pattern should be! Simple and easy to follow with beautiful results! I always had problems with French knots but June's explanation took care of that.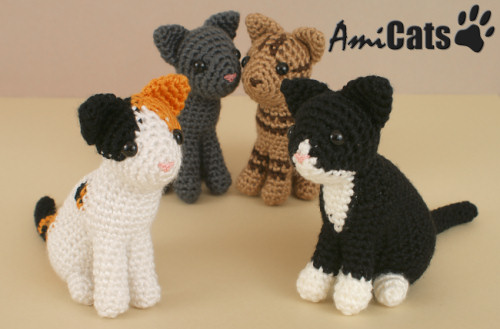 And finally, January's winner is Josh C's review of my AmiCats Tuxedo pattern (far right in the above pic):
All of June's pattern's I've tried so far have been well written and they all produce a realistic result, but this cat really impressed me. I'm not sure what amazed me more – the fact that the finished cat body actually includes contours and curves exactly where you'd expect them to be on a real cat (like the hind legs, or the arch in its back), or the method for joining the front legs to the body (no sewing required, you crochet them straight onto the body…and the tops of the legs just disappear into the body, leaving literally no seam at all)

It took me a while to complete but the finished product was 100% worth it.
Congratulations, Linda, Elizabeth and Josh – I've emailed you all to find out which pattern you'd each like as your prize!
What's Next?
Full steam ahead with perfecting my new plant pattern and preparing the Promise of Spring CAL to begin on Feb 15th. After that, I'll be able to make a start on my last fully-pledged commission – yay!