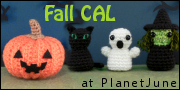 Don't miss the Fall Crochet-Along info and discount code at the end of this post!
Did you know that, as of right now, I have 75 crochet patterns in my shop?!
That's a lot to look through! I thought some of you may be new to the wonderful world of PlanetJune (ha!) or might appreciate a reminder of some of the patterns I have in my store, so here's a little seasonal roundup for you of my Autumn, Thanksgiving and Halloween-related designs:
1. My Fruit Bat pattern is all worked in single crochet (as usual). His wings are worked in rows instead of rounds. Pipe cleaners in his wings let you wrap the wings around his body, but you can easily omit these if making the bat as a toy for young children or pets.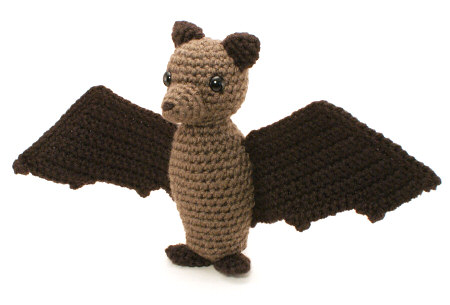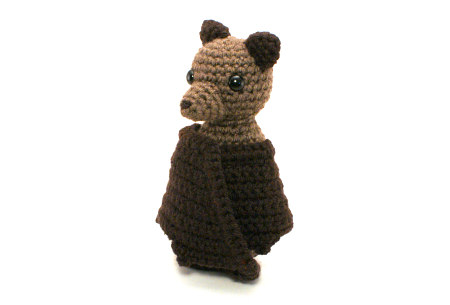 For Halloween, try making a fruit bat all in black with red eyes and dangle him from the ceiling with a string (yes, this is a fake Photoshopped one!)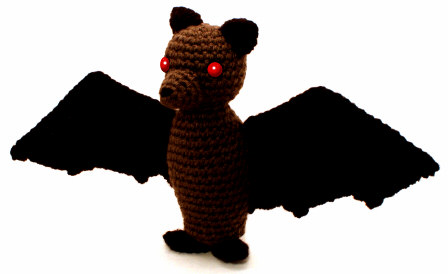 2. Running short on time? The Halloween PocketAmi pattern set (: Black Cat, Ghost and Witch) work up in no time and make cute little toys or perfect decorations! (And see below for a discount!)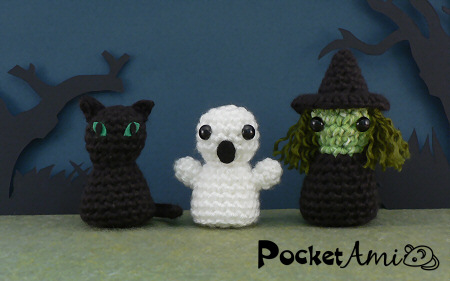 3. Or how about a perfect Pumpkin pattern? Mine comes in three flavours, so you can make a realistic pumpkin, a smiley kawaii version, or a scary Jack-o-Lantern. The Pumpkin pattern is free (but donations are much appreciated and will give you a nice printable PDF file in return!)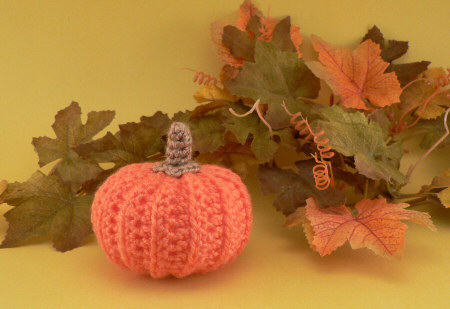 If you're tempted by my seasonal designs, why not sign up for my Fall Crochet-Along (CAL) at my Ravelry group? My Pumpkin and PocketAmi Halloween patterns are all super-fast and easy to make, so "I don't have time!" is no excuse 😉
You'll get 20% off the PocketAmi Halloween pattern if you sign up for the CAL – just use code FALLCAL2010 at checkout to get your discount. And if you add a little donation for the Pumpkin pattern at the same time – $1 minimum – you'll get a PDF version of the pattern as your reward for your generosity 🙂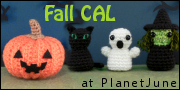 Grab this button (above) for your blog, and spread the word about the Crochet-Along – it's going to be fun!