It was a challenge trying to whip this Dalek up in secret as a surprise for Dave's birthday, but I just managed to get it finished in time. For the uninitiated (there may still be some of you out there?), Daleks are the scary villains from Doctor Who.
I based it on amdowns' Dalek Crochet Pattern, but I made a few modifications with the base and the eye and plunger attachments. I'd have made more modifications if I had time – I really wish the texture of the body was more distinct, and I'd probably redo the whole thing using 2 colours. It also looks a bit too plump and cuddly, but I'm happy with the attachments (they are wired inside so they are poseable) and I put an old CD inside the base to keep the bottom flat – it just happened to be exactly the right size. Now I just have to hope hubby likes it.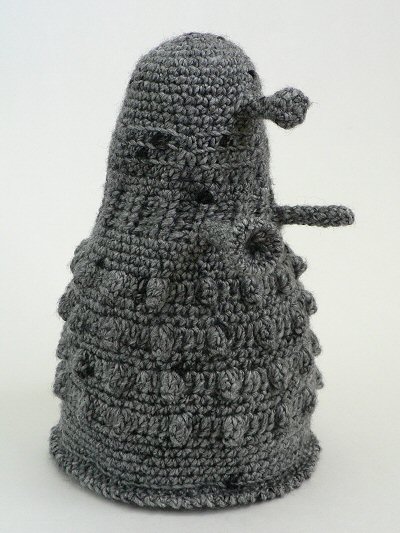 EXTERMINATE! EXTERMINATE!!