I haven't had much crafting time lately – we are in the middle of buying our first house, and the process is exciting and scary and fun and frustrating and amazing and exhausting and, most of all, time-consuming. I am really missing my crafting time these days; I feel like I'm skipping the part of the day where I get to decompress and relax and quietly enjoy myself.
Yesterday we went to meet our lawyer and sign all the papers and hand over our money. On our way home, my lovely husband volunteered a detour to Herrschners yarn and craft store. I can't believe I will have such a fantastic local yarn store! Dave found me the perfect yarn, with the added bonus of a sale price of over 80% off! This is Gedifra Tecno Hair and it's beautifully soft and light and fluffy: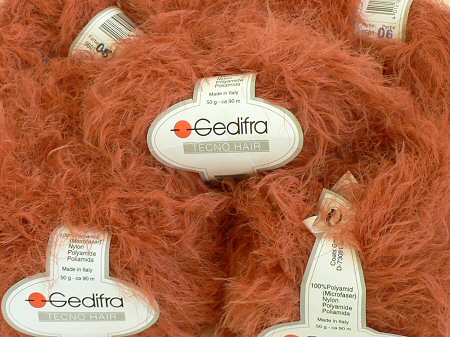 Now what could I make with a yarn like this? Hmmm, I wonder…
On an unrelated note, did I mention that I am a big orang utan fan?
We are going to be pretty busy for a while! There'll be rooms to paint and curtains to sew and IKEA furniture to assemble – does any of that count as crafting? Let's say yes, and then I can show you our progress. And, eventually, I will have my own craft room to show off and my world will be a better place.