I've been planning this ambitious design for a couple of months, and it's finally ready: a family of Emperor Penguins!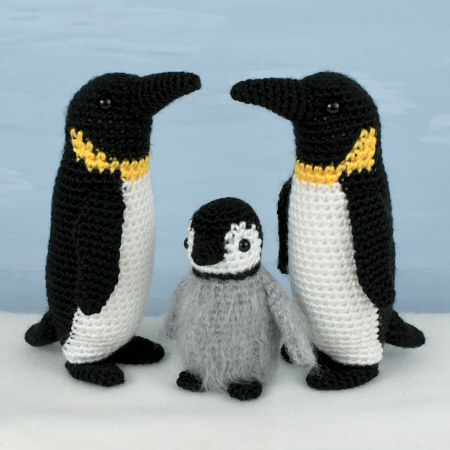 Emperors are the largest of the penguin breeds, and probably what most people think of when they hear the word penguin. They've seen some extra popularity in recent years as they feature in the cute animated movie Happy Feet and the stunning documentary movie March of the Penguins.
I've been wanting to make a proper, amigurumi-style penguin for years, but until recently, colour-changing tehcniques weren't up to what I had in mind. If you look at other penguin designs, they either have a white back, or a white oval (crocheted or felt) stitched onto their tummy, and neither of those options appealed to me. I've pioneered a new technique for creating smooth colour changes between a tummy and back (debuted with my Kingfisher pattern) and the beauty of this technique is that all the magic is in the actual pattern – you don't need to learn any new stitches or methods to be able to follow it! I love innovating 🙂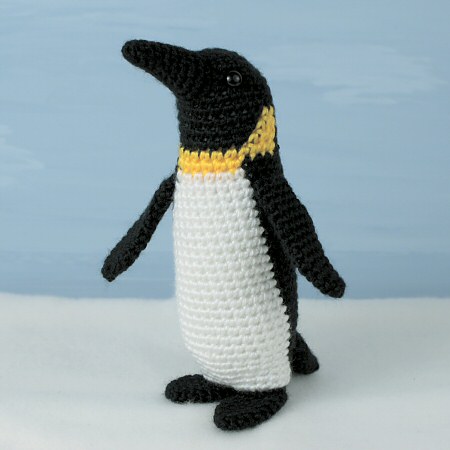 So now I have a clever emperor penguin design, but I couldn't resist making a little fluffy baby penguin too. I love how they look so different to the adults, but equally distinctive. And, of course, brushed crochet is the perfect technique to bring this little one to life.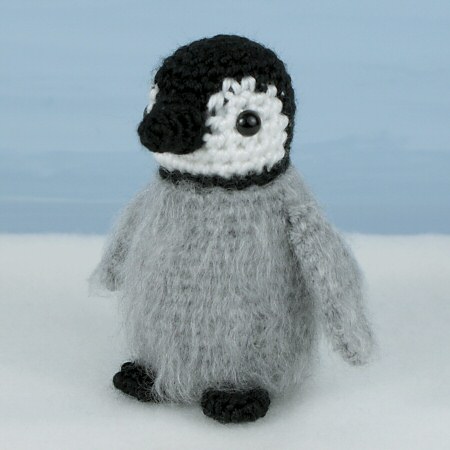 If you'd like to make your own sweet pengys, you can buy the Emperor Penguin and Baby Emperor Penguin crochet patterns from my shop, and I've also put them together as an Emperor Penguin Family multipack for a special price.
I hope you like my penguins!