When I was little, I always wanted a Netherland Dwarf rabbit. We ended up with guinea pigs instead, which I never regretted, but I still have a soft spot for cute little dwarf bunnies. Well, now I have the opportunity to do something about that: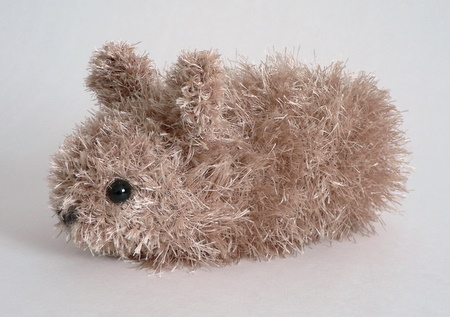 This bunny started out as a failed attempt to make my abyssinian guinea pig. I realised when I got halfway through that it wasn't going to work as a guinea pig, so I decided to keep it and see if I could modify it into a bunny for myself.
If you'd like to make one of your own, it's based on the one-colour Fuzzy Guinea Pig pattern, made in eyelash yarn (by itself; not held together with ww yarn) and a size H (5mm) hook. Before starting the decreases on the body, add a few extra rounds until the bunny looks long enough – just eyeball it. I left off the legs because I figured the fur was long enough to hide them anyway, but you could include the legs if you'd prefer.
For the ears, I used the following pattern:
Rnd 1: Ch2, 6 sc in 2nd ch from hook. (6 st)
Rnd 2: (2 sc in next st, sc in next 2 st) twice. (8 st)
Rnd 3: sc in each st around. (8 st)
Rnd 4: (2 sc in next st, sc in next 3 st) twice. (10 st)
Rnds 5-9: sc in each st around. (10 st)
Join with sl st to next st, fasten off leaving long end of yarn to attach ear to head.
Flatten the ears and sew them to the head. Trim down all the fur around the face and ears. Sew on 10mm eyes and embroider the nose.
My guinea pig has taken baby bunny under her wing: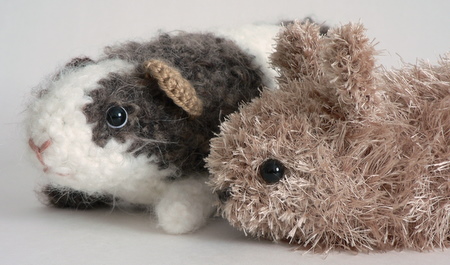 Now I finally have the dwarf bunny I always wanted!