What a way to ring in the new year… Two days with much snow and no internet access wasn't exactly what I'd expected! I'm back in action now and I've caught up with all the pattern orders, but I've still got some e-mail to sort through. To make up for my poor pictureless post yesterday, here's a rare glimpse of PlanetJune-land: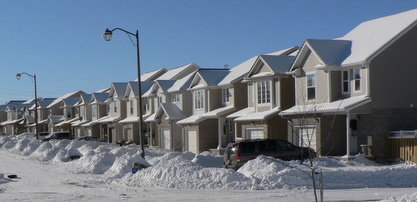 See, I wasn't kidding about the snow – those piles in front of the houses are probably over a metre high!
Now back to the crafts… My other blog, the Crochet Along group blog, has just started its new theme: Granny Squares. So if you've ever wondered how to make one, or you'd like to see what we're making over there, head on over!
I made my first ever granny square so I could design the blog banner:

It was quick and easy to make – I'm looking forward to thinking of something to make with these squares soon. Something small though – there's no way I'm going to have time to make a whole blanket!
I've enjoyed reading the crafty New Year's resolutions on everyone's blogs, but I'm not even going to attempt to make one of my own. I have no idea where 2008 will take me, so I'll just continue to enjoy what I'm doing, and try new things, and see where I end up 🙂