I'm just back from my sister's wedding (which was spectacular); my refashioned shoes held up well and I managed not to trip on my way up the aisle, so we'll call that a success! It was lovely to see my family, but I really missed being online (other than daily email checks for anything urgent) – how sad is that?! Now I'm trying to pick up the reins of my life and business again, which is surprisingly difficult after a week away from it all…
But look what was waiting for me on my return: new Dinosaur business cards!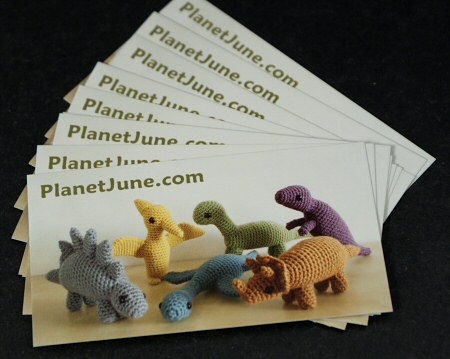 What do you think? I'm really pleased with them – they work much better than any of the previous options I was considering. If you order anything that needs shipping (i.e. eyes, noses, stitch markers, and/or Detail Stuffing Tools) from my shop in the near future, you'll be getting one of these in your package! (And, of course, if you'd like to buy any or all of the Dinosaur crochet patterns, you'll find them all in the Prehistorical Animals category in my shop.)
And in other news, we're almost up to the halfway point of the Summer Crochet-along (CAL) on Ravelry.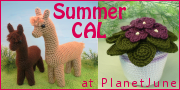 We already have some excellent completed projects (see below), and many more in progress.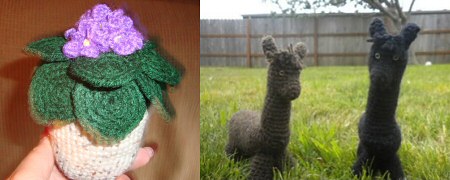 Photo credits: African Violet by bsktkls; Alpacas by rainydaybaby
If you'd like to join in and make an Alpaca or African Violet, there's still over a month to go, and don't forget you can get 20% off the cost of the pattern(s) (either or both) if you're crocheting along – check the CAL instructions to find out how 🙂
Ahh, it's good to be back!