When I launched my new PlanetJune logo last March, I took the opportunity to completely redesign my pattern stylesheet at the same time. You may have noticed that all my patterns released since then have a subtly different look from my older designs.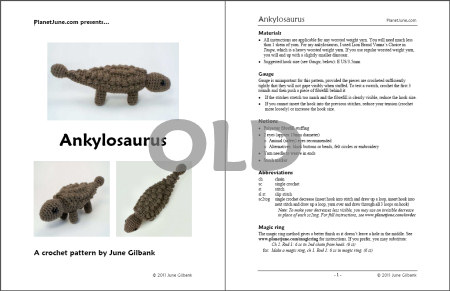 My game plan is to convert my entire back catalogue into the new format, and, at the same time, add any tips and clarifications that I think would improve the patterns – after all, I've come a long way in my 6 years of pattern design, and I'd like my older patterns to include my new-found wisdom!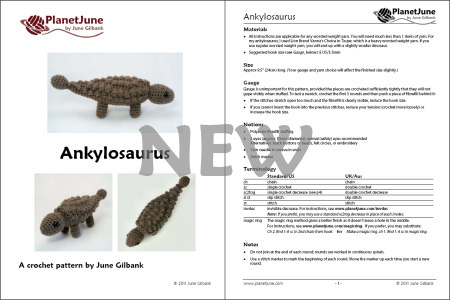 An easy way to tell old from new – the new editions have my yarn planet logo at the top of every page.
The improvements are all functional, to make my patterns easier to use, easier to print, and easier to understand. Here are the improvements you'll see in the re-releases (and all new patterns since April):
Design and Layout:
The layout has much less wasted space, so each pattern is an average of 1 page shorter, saving on paper if you decide to print them.
My new page size is designed to print perfectly onto both letter and A4 sized paper.
I've updated the font to be cleaner and more readable, especially if you're reading on-screen.
The design is intentionally clear and simple so you won't waste ink printing decorative borders, coloured backgrounds, etc.
Terminology:
Abbreviations list gives UK/Aus equivalents for all stitches used, to prevent confusion.
Invisible decrease: all patterns will now say invdec instead of sc2tog (except in places where a sc2tog stitch is specifically needed).
Size: The finished size will now be included in the patterns.
Added tips and links to tutorials: I'll link to my relevant tutorials in any pattern that would benefit from a specific technique, e.g. any patterns with colour changes will link to that tutorial.
Clarifications: Any areas in the patterns that I've had several questions about over the years will be revised to include additional explanations. I'll also re-edit all patterns to check for anything else that can be clarified.
Improved photos: Especially in the older 2007 patterns, some of the photos aren't up to my current standards. I'll be reprocessing those to be brighter and clearer.
Get the re-releases – free!
Of course, if you've happily used the existing versions and had no problems, you won't need the updates, but I'll offer them to all my customers, so you can save/print a copy of the latest version.
As I have 124 patterns to reformat, the thought of trying to create all those new editions for one grand re-release day was hugely intimidating. Instead, I'll be re-releasing them in manageable batches over the coming month, starting next week. Look out for my announcements, as, for 2 weeks following each batch announcement, you'll be able to download the new version of any of the patterns you've already purchased, at no extra charge, directly from your PlanetJune account!
If you'd like notification reminders, as well as posting about them here, I'll always announce them in my monthly newsletter. And, to make sure you don't miss out, I've also set up a special mailing list: Crochet Pattern Updates. This list is just for pattern re-release announcements. If you sign up for it, you'll get a short email notification every time a new batch of patterns has been re-released (no more than one or two emails per month until the reformat project is complete).
Once all 124 patterns have been reformatted, there'll be another 2 week window for you to download all your previously purchased PlanetJune patterns in the new format, so you'll be able to download any you missed. (That window will also be announced in both newsletters.)
* * *
This is a big project for me and it'll take many more months to complete, but re-editing all my patterns has been one of my long-term goals – it was just waiting for my logo and new stylesheet to be completed so I could make all the updates for each pattern at once. I've been working steadily through the list whenever I've had a moment over the past few months, and, although I still have a long way to go, I think it's well worth my time to revisit all 124 of the pre-logo patterns to make them more useable, so they'll hopefully answer any future customers' questions before they're asked!