What could be better than my 9 amigurumi dinosaurs? How about 18 amigurumi dinosaurs?!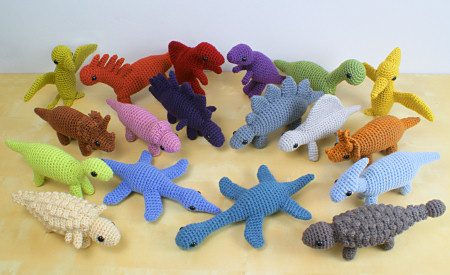 Click image to enlarge! The 9 new dinos are on the left in this picture, with the original 9 on the right.
This project has been a long time in the making; I kept getting requests for more dinosaur designs, but a lot of dinosaurs look fairly similar and I didn't feel comfortable with the idea of changing a few parts and calling it a whole new pattern – that doesn't seem fair to my customers! – so my Expansion Pack (EP) idea was born.
What's an Expansion Pack?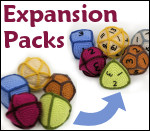 An Expansion Pack (EP) is an add-on to an existing PlanetJune pattern.
The EP lets you modify or add to the original pattern to create something else.
You cannot use the EP alone – you must also purchase the original pattern in order to be able to complete the pictured items in the EP pattern.
I put on my research hat and investigated all kinds of dinosaurs to find the most interesting types to add to the collection, and now I'd like to introduce them to you…
Meet the New Dinosaurs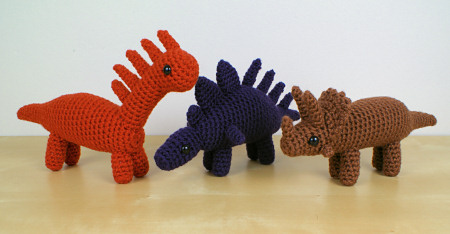 Dinosaurs Set 1X, L-R: Amargasaurus, Kentrosaurus, Pentaceratops
Amargasaurus was small for a sauropod, at only 33 ft long. It could easily be recognised by its impressive neck and back spines. It was a herbivore and lived in the early Cretaceous period.
Kentrosaurus was 17 ft long – only half the size of its better-known relative, Stegosaurus. It was well-armoured with a spiked tail and shoulders. Kentrosaurus was a herbivore and lived in the late Jurassic period.
Pentaceratops was a 28-ft long relative of the Triceratops. Its name means 'five-horned head', but its large elongated neck frill was even more impressive than its horns. It was a herbivore and lived in the late Cretaceous period.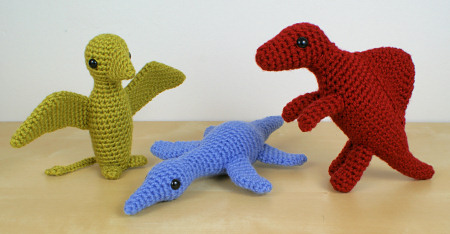 Dinosaurs Set 2X, L-R: Dimorphodon, Kronosaurus, Spinosaurus
Dimorphodon was a member of the Pterosaur family. (Pterosaurs aren't actually true dinosaurs, but flying reptiles that lived in the same time period.) Dimorphodon was a small pterosaur, with only a 4 ft wingspan, but had a large head, a puffin-shaped beak and a long tail with a diamond-shaped tip. It ate fish and lived in the Jurassic period.
Kronosaurus was a huge 30-ft long member of the Plesiosaur family. (Plesiosaurs aren't actually true dinosaurs, but aquatic reptiles that lived in the same time period.) Kronosaurus was a short-necked plesiosaur from the early Cretaceous period. It lived in the sea and ate cephalopods.
Spinosaurus was 40-50 ft long – even larger than a Tyrannosaurus Rex! A long crocodile-like skull and the spines which formed a sail on its back made Spinosaurus instantly recognisable. It was a carnivore from the middle Cretaceous period.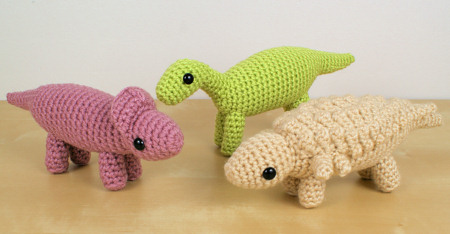 Dinosaurs Set 3X, L-R: Protoceratops, Iguanodon, Panoplosaurus
Protoceratops was a small herbivorous dinosaur, at only 6-8 ft long. Unlike its relatives (including Triceratops and Pentaceratops), it had no horns, only its ridged neck frill. It lived in the late Cretaceous period.
Iguanodon was a herbivorous dinosaur from the early Cretaceous period. It was 30 ft long and weighed 4-5 tons. It could walk on all four legs or run on its back legs. Its name means 'iguana tooth' (as its teeth resemble those of modern iguanas).
Panoplosaurus was a 23-ft long ankylosaur from the late Cretaceous period. It was a herbivore with a heavily armoured back, a row of spikes along each side, and extra-long shoulder spikes. Unlike the related Ankylosaurus, it did not have a tail club.
EP Pricing Info
These expansion pack designs keep about half of the original pattern, and the other half is new, so I'm charging only $2.50 apiece – half the price of the original. And it gets even better if you buy a multipack set: only $6.50 for a set of 3.
The multipack EP sets correspond to Dinosaurs Sets 1, 2 and 3, so I've called them Dinosaurs Sets 1X, 2X and 3X to make it clear which EPs match up with which original set. And, for this launch week, you'll only pay $6 each for any (or all!) of the three 3-pack expansion packs – a real bargain for 3 new dinosaur patterns! (No code required – the additional discounts are already set up in the shop, for this week only.)
Original Dinosaur Re-releases
All 9 of the original dinosaur patterns have now been given their makeover. If you log into your PlanetJune account, you can download the new versions of any dinosaur patterns you've already purchased, for no additional cost, for the next 2 weeks. (If you order any dinosaur patterns from today onwards, you'll automatically get the updated versions.)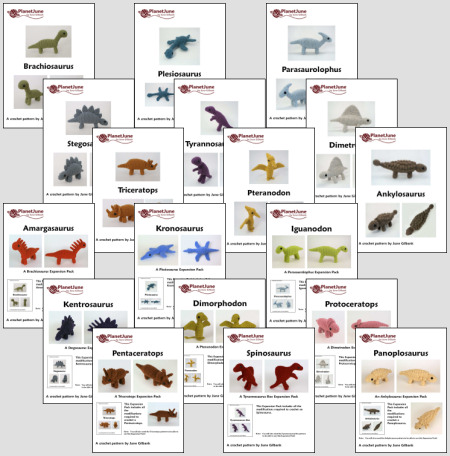 18 dinosaur patterns – all in the new and improved format!
Future Plans
As I moved further into designing the Expansion Packs, I realised that the dinosaur I've had most requests for – Velociraptor – wouldn't be possible here: in order to make a raptor, every component of the closest pattern (T rex) would have to be rewritten, which means it's not an EP; it's a whole new pattern! So, although 18 dinos is already an impressive collection, if these EPs sell well, it may not be a completely crazy idea for me to design Dinosaurs Set 4 (and maybe even Set 4X?) before I call this range complete 😀
Handy Links
Oh, and if you're intimidated by the thought of crocheting the thin spikes on some of the dinos, don't worry – those will be the subject of my next video tutorial, coming later this week! And then I may just need to collapse for a little while and recover from this mammoth project…
I really hope you love my new (and improved) dinosaur collection!