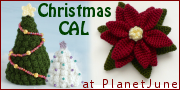 I'm so excited with the response to the PlanetJune Christmas CAL! The Christmas projects are popping up all over the place now, and it makes me happy to think I'll have played a part in the decorations in so many homes 🙂 I'm including a preview of a couple of projects (randomly selected from the entries so far) in this post to whet your appetite for my roundup post…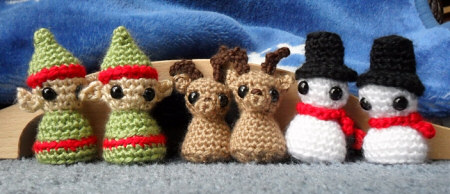 PocketAmi Christmas by Silverlotus
Don't forget this part though: if you'd like your CAL projects to be entered in my contest, you have to send an email to CAL@planetjune.com including either a link to where you've posted about your project, or a photo of the finished project. One email per project (where 'project' means one of my Christmas patterns, so if you've made 12 baubles, send one email with a pic of all 12). I'll be creating my CAL roundup and drawing the winners from the emails I receive, so you won't be entered unless you send those emails!
I'm just reminding you of this because I've only had 11 entries so far, and I've seen at least twice that many completed projects, so I think people have been forgetting to actually enter the contest! I've emailed an acknowledgement to everyone who's submitted a project, so if you didn't get an email from me this morning, you haven't entered yet.
There's still plenty of time if you haven't had a chance to send the email yet, or even if you haven't even started the CAL yet: you have until Christmas Eve to complete your projects and send me your photos 🙂 If you'd like to participate, you can make any (or all!) of my Christmas patterns:
Links:
All 6 Christmas patterns
Christmas CAL and Contest instructions and rules
Will you join the Christmas crocheting fun?