Before I forget, I need to draw the winner of November's 'Review and Win' contest in my shop. And the winner is… Heather H, with her review of my Red Fox pattern :
This fox may very well be my favorite pattern from June. I brushed out the yarn for a furry look (as instructed for the Arctic Fox pattern…buy both!). It takes a good amount of time, but is well worth it as it makes the fox look so real. A very satisfying pattern overall! I get a lot of compliments on my fox.
Congratulations, Heather, I'll email you to find out which pattern you'd like as your prize!
* * *
Now we're into December, and Christmas is fast approaching… Stuck for a present for a crocheter on your list? How about a PlanetJune gift certificate? Buy them in any amount from $5 to $100 and let your recipient choose her (or his) favourite patterns from my catalogue! And as a gift to you, for every $10 in gift certificates purchased, I'll give a $1 gift certificate to the purchaser. So, for example, if you buy $50 in gift certificates, I'll send you a $5 gift certificate for yourself (or you can pass it on to someone else as an extra gift). This offer is valid all through December, and gift certificates are emailed, so they are perfect for a last minute gift!
* * *
While we're talking gift ideas, I had a great idea for a new product: I've put together an Amigurumi Accessory Kit that contains some of my most popular items.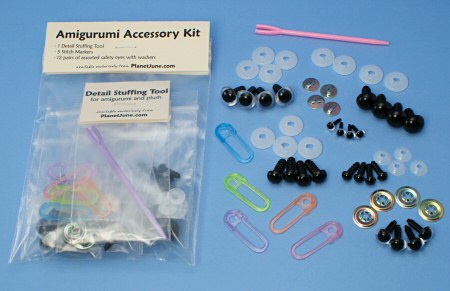 A huge selection of goodies for amigurumi-making!
Whether you're just getting started with amigurumi, or want a selection of the best accessories conveniently to hand, the Amigurumi Accessory Kit is a great deal on the bestselling PlanetJune exclusive amigurumi tools and a selection of commonly-used eyes. In this kit, you'll get:
2 pairs black 6mm safety eyes with washers
2 pairs clear 6mm safety eyes with washers
2 pairs black 9mm safety eyes with washers
2 pairs clear 9mm safety eyes with washers
2 pairs black 12mm safety eyes with washers
2 pairs clear 12mm safety eyes with washers
Not sure how good my tools are? Don't take my word for it – check out the reviews on their product pages (linked above) and you'll see why these are absolute essentials! And you'll get a great bargain when you buy this package for only $10 – the separate components would cost $13 if bought alone…
The Amigurumi Accessory Kit comes neatly packaged and would also make a wonderful gift for a new or experienced amigurumi-maker. Why not bundle it with a PlanetJune gift certificate so the recipient can pick their favourite patterns as part of your gift?
* * *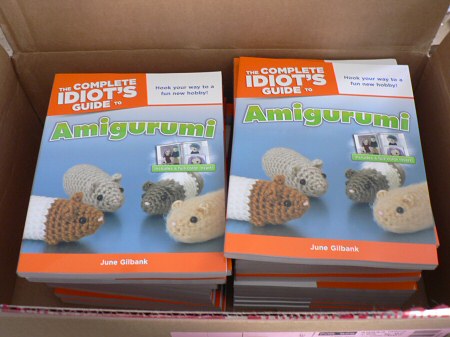 And one more option: I wasn't planning to do this, but I've had so many requests, I've made a limited number of signed copies of my book available for purchase. Let me say right away: this is not a cheap option (shipping from Canada is always horribly expensive) – I can't even begin to compete with amazon, so I'm only offering this in case there are any super-fans out there 😉 I only have 20, and once they're gone, that's it. I haven't signed them yet, so I can personalise my message to you or the recipient (if it's a gift). And, although I'll ship orders asap, I can't promise that they'll arrive by Christmas – the international posting deadline was 2 days ago, so please be aware of that too.
My book: The Complete Idiot's Guide to Amigurumi by me, June Gilbank
I hope this has given you some options for the crocheters on your Christmas list, or maybe as a gift for yourself!