You might think I'd be running out of animal ideas to recreate in crochet, but there are lots of really obvious choices that I haven't had a chance to make yet. Case in point: the national animal of Canada – how could I have not designed a beaver pattern yet?! Well, let's rectify that right now…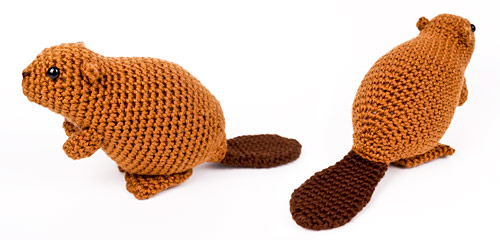 When I stopped my pattern commissions program, the beaver was almost fully pledged, so I'm really happy to have finally had the chance to fulfill the wish of those would-be commissioners (and other Canadians, nature lovers, people who just like cute amigurumi animals…) with my PlanetJune Beaver crochet pattern! (And – bonus for the commissioners – now you don't have to pay the full cost of your pledge, just the regular pattern price!)
Beaver Fun Facts
The beaver is the largest rodent in North America. It lives in ponds and lakes and on riverbanks.
Beavers can see underwater as well as they can on land, and can close their ears and nostrils when swimming. They swim using their webbed back feet as paddles and their flat tails as a rudder.
Each beaver uses its chisel-sharp teeth to cut down over 200 trees a year, to use both as food and building materials.
Beavers are one of nature's builders, using mud, twigs and bark to build a lodge to live in. They contruct the lodge on a platform in a pond, with all the entrances underwater.
Beavers remain active in the winter, beneath the ice of their pond. If their water source isn't deep enough, they build a dam to create a deeper pond so it won't freeze all the way through.
If you've ever heard the phrase "busy as a beaver", now you know why – beavers are always busy, building and repairing their constructions!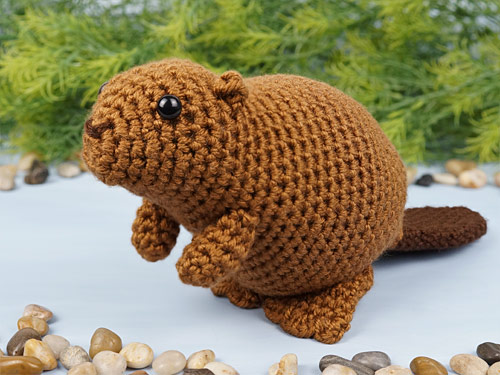 About the Design
I love how beavers sit up on their back feet, using their tail for balance, and that's the distinctive pose I tried to capture in my design.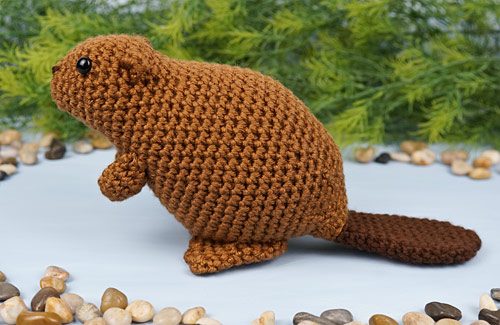 I think you'll love how it all comes together – the body shaping, the cute little arms and big webbed back feet, and of course the iconic tail.
Buy Now & Launch Discount
What are you waiting for? Pick up my Beaver crochet pattern from my shop right now. Or, if you're not ready to make it just yet, add it to your Ravelry queue or favourites so you don't forget about it:
And for one week only, you can take an extra 50c off the price: add the Beaver pattern to your shopping cart, and enter the discount code BEAVERTAIL at checkout! (Offer ends Tuesday 5 March, 2019.)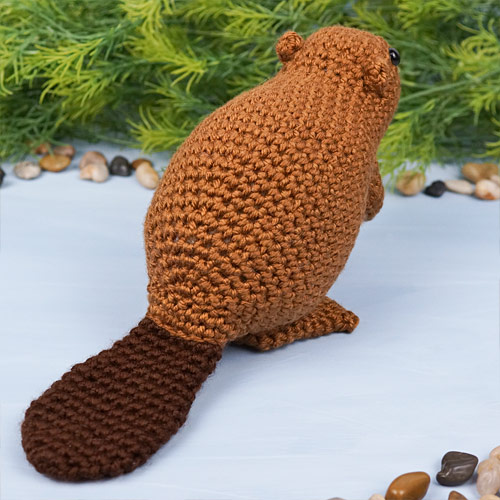 I hope you love this beaver design as much as I do!
Don't forget to tag me (I'm @planetjune everywhere) when you've made yours 🙂