I've been back in Canada for just over a week now and I've just about finished organising the most critical things, so now I can take a breath and start to enjoy myself!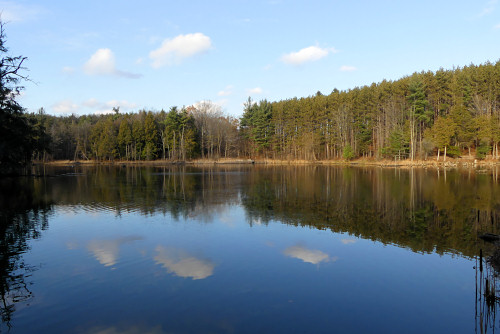 Ahh, this is the beautiful Ontario that I've been missing 🙂
Although winter hasn't set in properly yet here, this is already the coldest weather I've experienced for over 6 years, but I'm enjoying the crisp, cold air and the opportunity to wear warm coats and snuggly sweaters. And, more than anything, I'm enjoying feeling safe and welcome here.
When we arrived last Thursday, after 24 hours of flights, it took another 4 hours to get all the customs and immigration paperwork sorted out before we could finally collect Maui, and then he had to stay locked in his crate for another hour while I drove us from the airport to our temporary accommodation. But, just like our move in the other direction 6 years earlier, he bounced back very quickly from his ordeal and has settled nicely into our condo.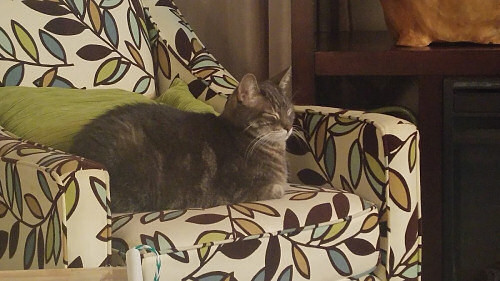 Maui loves dozing in this chair (with a green pillow that matches his eyes – he's so stylish!)
We (unintentionally) arrived back here just in time for Black Friday, which was quite a culture shock after years of buying practically nothing in South Africa, where the things I'd want either weren't available or were too expensive to justify buying. I enjoyed flipping through many dozens of sale flyers, and we picked up a few home electricals that were on sale – we'll need to re-buy everything electrical because of the different voltage here.
I couldn't convert my South African driving license back to an Ontario license, so I knew I'd have to take written and road tests before I could buy a car here again. Apparently the local driving test centre has a 4-5 hour wait just to be seen, so I drove out to Stratford instead (no queues!) and, after an extremely stressful day – there were no test appointments available until January, but I managed to snag a cancellation – I passed both my written and road tests, so I'm now an Ontario license holder again! I'm just waiting for my new car to arrive, and then we'll be ready to get on the road and start to explore Canada's vast natural beauty.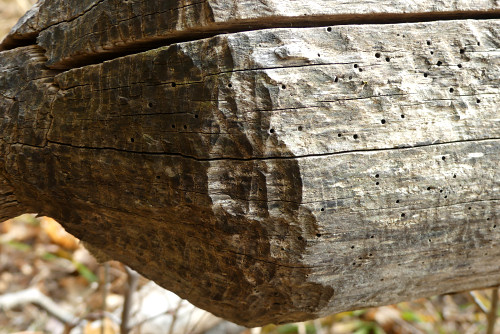 I've set myself a challenge to photograph a wild beaver – these toothmarks are as close as I've got so far!
We've also found a house to rent from January. It's a brand new house in a new development in Waterloo and it's very clean and modern inside. It's lovely, although I'm not quite sure why anyone would need more bathrooms (four) than bedrooms (three)…. But I can't wait to move in and turn it into our home 🙂
I'm hoping to snag the massive master bedroom as my office/studio – PlanetJune needs a lot of room to house my photo studio, design and making space, computer/office suite, and supply storage! I hope that splitting one large room into separate spaces for each area of my business will help me to be more organised and stop everything from getting hopelessly muddled. I'll let you know next year how that's working out…
---
And now I'm going on a semi-sabbatical for the next few months. I'll still be around to help with any PlanetJune problems, but I need to sort out the technicalities of moving my business to another country before the new year hits.
I'd also like to have a good break after that – the past year has been full of upheaval, and, once I've got everything set up here, I could really do with some time off to relax before jumping into any more big projects.
Don't worry, my blog won't be going silent while I'm getting settled into my new life! I've been stockpiling new patterns and blog posts for months now, so I have lots ready to share with you while I'm on sabbatical.
Ahhh, I'm so happy to be home! 🙂