We've finally made it to South Africa! This is the view that greeted us as we stepped out of the airport – see the sunrise over Table Mountain in the background. A good start to our new life!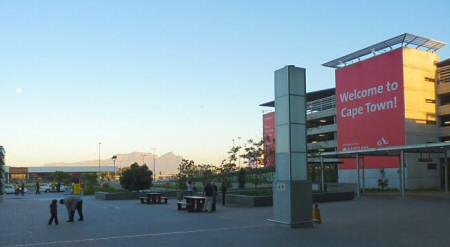 Just getting here has been an adventure in itself. We've had difficulties every step of the way: from selling the house in time; to getting our residency & work permits; to getting Maui's travel paperwork in order – every possible thing always looked like it wasn't going to work out, and then, at the very last possible minute, we got it sorted. It's been the most stressful few months of my life, but, in what feels like a miracle, Dave, Maui, and I have all made it through safely and here we are, living in South Africa!
Just to give you an idea of the stress we've gone through, here are some highlights of the past week (skip this if you're not interested in my travel adventures):
We were 2 days away from losing our Canadian Citizenship application because the South African consulate had kept our passports for longer than anticipated, so our citizenship tests hadn't gone forward to be approved by the judge, and the judge was now away for longer than we had left in Canada. I finally found an amazing lady at the citizenship office who went over and above for us and managed to get a judge in Ottawa to submit the approval by fax. We became Canadian citizens the day before we left, and, although we didn't have time to enjoy it on the day – we had to head off to Guelph to get Maui's export permit as soon as we left the ceremony – I'd just like to say that I'm very happy and proud to be able to say that I AM CANADIAN! I miss you already, Canada.
When we arrived at the airport on Saturday, we took Maui to the cargo centre to be dropped off. I thought this was just going to be a formality – we had our official South African cat import permit, our official Canadian cat export permit, and the vet certificate to prove he's healthy and doesn't need to be quarantined on arrival. But it turns out they also wanted Maui's rabies vaccination certificate because we were travelling via the UK, which has extremely strict policies on rabies, and apparently the vet certificate listing all his vaccinations wasn't sufficient. The rabies form was currently somewhere inside our shipping container, already on its way to South Africa. What on earth could we do if they didn't accept Maui?! After hours of stress and tears (on my part) I tried to phone our vet's office, which was (extremely luckily) still open at 4pm on a Saturday, and they agreed to fax the missing paperwork directly to the British Airways World Cargo office where we were waiting. Fixed!
The first leg of our long journey was fine: we arrived at Heathrow and spent 9 boring hours waiting for the next flight. We boarded on time, and then spent the next 5 hours sitting in the plane on the tarmac in London – apparently there was a problem with the plane, and they were trying to fix it so we could take off. As the engines weren't running, neither was the plane's air conditioning, and we were all sweltering inside the cabin. They handed out cups of water, but we had no dinner, and they wouldn't let us out of the plane. At midnight, they finally decided we weren't going anywhere, and let us off the plane. They found hotels for all of us, but it was 2am before we got there, and the hotel forced us to check out by 10am, even though our replacement flight wasn't until 5.30pm. Dave checked on what would happen to poor Maui – apparently he would be looked after by quarantine vets overnight but there was no way we'd be allowed to see him, so we headed off for our hotel and a few hours' sleep.
After another exciting day spent sitting in the comfort-free chairs at Heathrow, the replacement flight was uneventful, and we arrived at Cape Town airport in time to see the view at the top of this post! We collected Maui – in an amazing turn of events giving everything else that's gone wrong, that involved nothing more than going to three buildings, signing forms and paying a fee, and then they handed over his crate.
I'd just like to say that Maui is the strongest, bravest cat in the world. He was immediately very happy to see us, and after a long drink, he seemed none the worse for wear for having been crated and away from us for 60 hours – poor baby! He's settled into our new flat like a champ, and now he's king of the world, sitting on the windowsill and surveying his new domain, and watching strange and unusual birds flying past the window. I feel like the luckiest girl in the world to have my boy back safely after all these adventures he's gone through.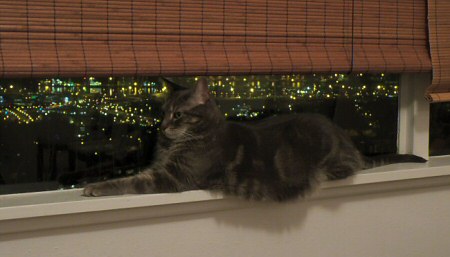 Maui! And, oh yeah, some city in the background…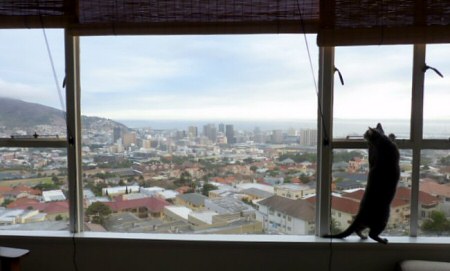 The amazing view from our flat. Cape Town is looking pretty good so far 🙂
The only real downside is that we don't have internet in this flat. I'm trying to get a Blackberry, but they won't give me a contract as I don't have a salary or 3 months' South African bank records – I hope we can find a solution because it's driving me crazy! Today, we're visiting Dave's new workplace, the Astronomical Observatory, and I can borrow their wireless while I'm here and post this. So, if I take a while to respond to emails etc, that's why – please have some patience while I try to sort this out. If you need crochet patterns, please order through my fully automated shop and not Etsy, so you don't have to wait for your patterns, and I don't have to pay for internet to email them to you!
Once I fix the internet situation, I think I'm going to enjoy it here in Cape Town. I know this sounds lame (hello, internet addiction!) but I feel like I'm missing a limb when I can't get online: not only am I in a strange country where I know nobody, but I'm cut off from my only link to my friends and family. I'll lose that lonely feeling when I'm back online again, hopefully very soon.
And so begins my South African adventure…