Wow, what a great response to my contest! Thank you so much to all who entered – I didn't expect to get so many fantastic suggestions. I've got lots more ideas now for other animals to add to this series 🙂
Now onto the result of part one of the contest: name the range. It was a difficult decision – there were so many great names! I decided in the end to not mention the sea or ocean or mammals, because this way I have the option to add freshwater animals and non-mammals. The name I decided on in the end is… AquaAmi. Short and sweet. This was suggested by several of you, but the first person to mention it was Talvi.
Part two of the contest: the random drawing. There were 92 entries, so after I removed the 5 duplicates from the drawing (and Talvi's entry) that left 86 unique entries. The random number generator gave me the winner: Gail E.
As an extra bonus to say thanks again to everyone who entered, I have added some runner-up prizes of a discount off their next order from PlanetJune. The 10 runners-up are: Sheryl, Mandy, Eliea, Randi, Suzi.BC, Crystal, Helen, Katie F., Kiirs and Brooke.
Congratulations to all 12 winners – I will be e-mailing you all today to sort out the details of your prizes.
UPDATE: All winners have been e-mailed!
---
And here's a sneak peak of the third AquaAmi: a beluga whale.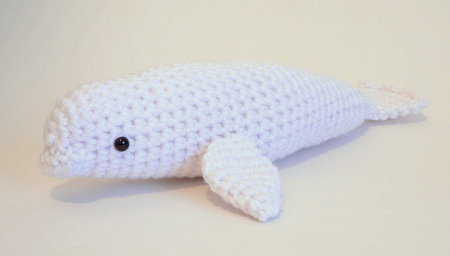 All three patterns in AquaAmi Set 1 will be released within the next week. And I don't want to get too mushy, but thank you to all of you for your support; it means so much to me!
UPDATE: Looking for the pattern? You can find the AquaAmi Beluga Whales crochet pattern in my shop.