I've avoided making any 'small white fluffy dog' designs to date, but now I have a fluffy white dog of my own I just had to give it a go and make an amigurumi version of my sweet Maggie, who's (mostly) a mix of miniature poodle, maltese and bichon frise.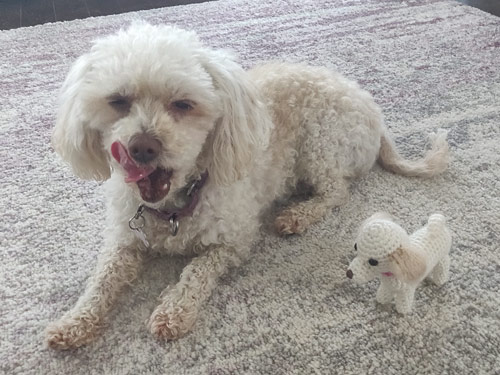 One of the problems with designing patterns for long-haired dogs is that they can look quite different depending on how their fur is clipped – for show, for practicality, or something in between. And lots of the small dogs I know are mixed breeds, so they may not look exactly like a specific breed archetype anyway… It's a challenge to make a pattern that will please people, so I thought starting with my own pup as the model will at least make me happy 😉
To make my ami-Maggie, I started with the closest parts from several of my existing AmiDogs designs, and then made a few tweaks to get a closer match to my little maltipoochon. I used mainly off-white yarn, with light brown for the ears, as Maggie is a little apricot-coloured in places, and not bright white anywhere! And here's the result: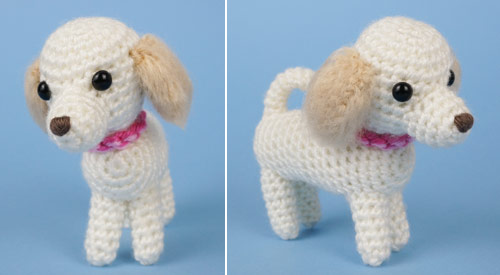 Aww! I debated brushing ami-Maggie all over to give her a fluffier look, but in the end I decided that the fluffy ears were enough to make her mini-me look like her. Do you agree? (I might still brush the top of her head a bit too…)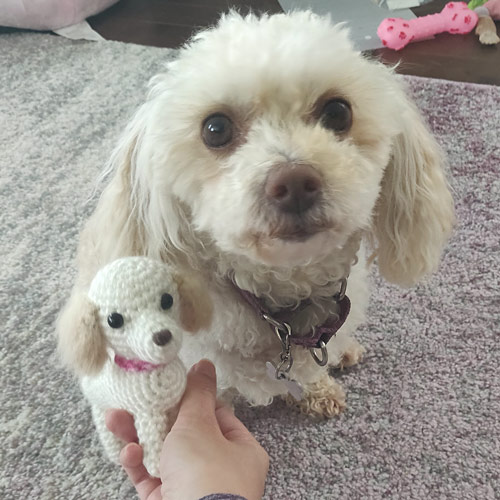 You've probably guessed what's coming next, huh? I adore both my babies, and I couldn't just make an ami-Maggie without making an ami-Maui to complete the set!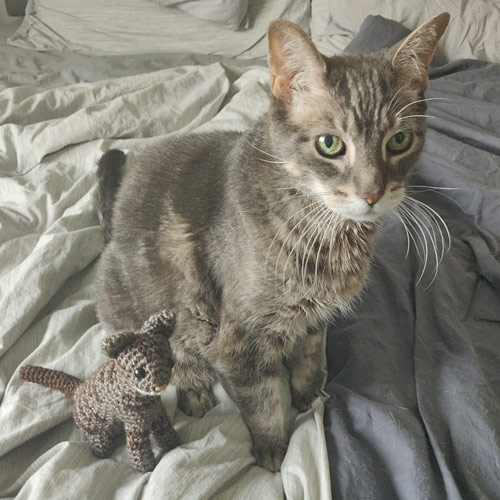 To make my ami-Maui, I used my AmiCats Tabby pattern, with only basic modifications to make Maui's white chin and unstriped tail.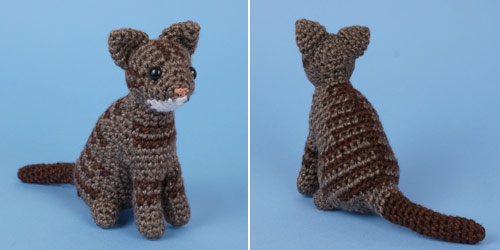 Maui doesn't have very defined tabby stripes, so I chose two similar heathered shades of taupe/brown (Lion Brand Heartland in Mammoth Cave and Sequioa) to give an impression of mottled tabby colours without modifying the pattern, and I think that was pretty effective.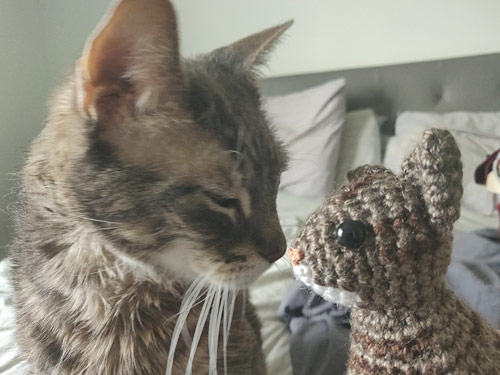 My amigurumi versions of my babies aren't perfect matches for their real-life counterparts, but even at a glance there's no doubt who they represent, and I just love them!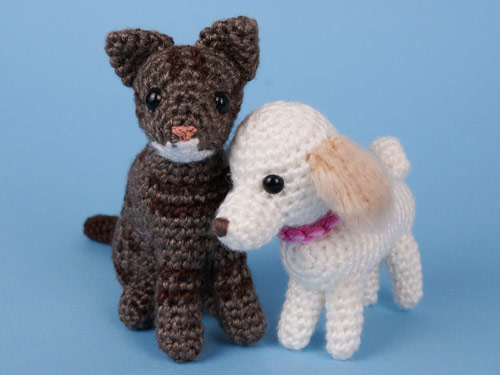 ---
Crochet your own Cats & Dogs!
If you're looking for cat or dog crochet patterns, look no further than my AmiCats and AmiDogs collections. With 8 cat and 24 dog designs, I have a wide selection for you to choose from: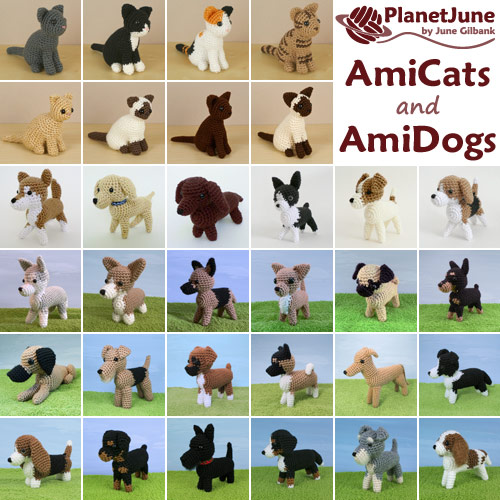 So many options! And you can mix and match parts from different patterns to make a closer match to a specific dog or cat.
I know I still have some gaps in my design collection though – do you have a little fluffy dog that you'd like to recreate in crochet? Let me know! Leave me a comment below with the breed of your dog and what you think of my ami-Maggie, and/or email me (june@planetjune.com) with a pic of your baby! If there's enough interest, I may be inspired to create some more AmiDogs patterns in future…