Amigurumi Acorn was one of my first free patterns, from 2007. I created it before I came up with the idea of donationware patterns and I've been meaning to add it to my donationware library for a long time. I wanted to show that this popular pattern is far more versatile than just the cute smiley acorns I originally made, so I've made a second example set of acorns to showcase the more realistic look you can also easily achieve with this pattern: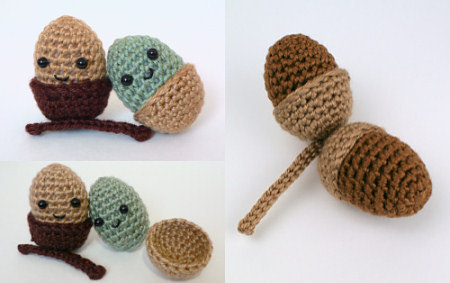 Cute acorns and realistic acorns – both from the same pattern
To bring the pattern up to standard before adding it to my shop, I've revisited and updated the text, and reprocessed the photos to be brighter and clearer. If you'd like to donate for this sweet pattern, I've also included lots of additional bonus info in the PDF version:
Eye positioning tips
How to invisibly stitch the acorn to the cup
An unwired (child-safe) twig pattern (you can see this on my realistic acorns, below)
Suggestions for use, and bonus tips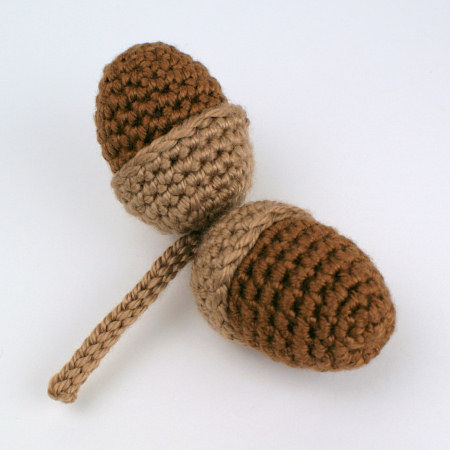 My new realistic acorns have a child-safe wire-free twig (bonus pattern only in the PDF)
The improved Amigurumi Acorn pattern is perfect for an autumn wreath or other fall-themed decor; I hear that some people even have an autumn-themed Christmas tree! Although the worsted weight acorns are about 2″ tall, you can miniaturise the pattern with finer yarn or thread and a smaller hook and make adorable acorns that are closer to life-sized.
As always, the basic pattern is free for your use, but you'll get the bonus tips if you choose to donate for the PDF version. I hope you'll enjoy it!