Earn more with the PlanetJune Affiliate program
Did you know you can join the PlanetJune Affiliate program, and make 5% of the total of any orders that come when you refer people to my shop?
When I sent out the third-quarter payments to members, I noticed that some affiliates hadn't reached the $2 minimum for payout, and a few hadn't made any sales through their affiliate links. I want you to succeed – larger affiliate payments to you means more new customers for me, so we all win!
I've come up with some Top Earning Tips to help you earn more through the program. If you're a new affiliate, or would like to earn more through the program, read on for my top 3 tips for success…
Go to PlanetJune Affiliates: Top Earning Tips >>
Review and Win contest
October's 'Review and Win' winner is Brigitta W, with her review of the pattern that launched my PlanetJune business, Fuzzy Bear: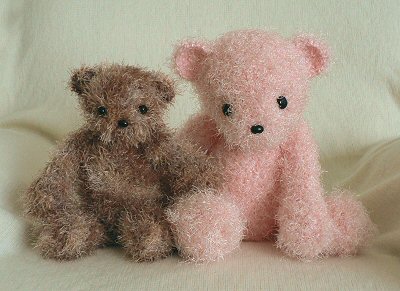 Just finished my first bear and it looks just like the pictures! (which is not always the case, lol) The pattern is written so well and was so easy to follow I completed the bear in only a couple of hours. As it was for a baby I used a soft baby yarn with very little fuzz. (I didn't want alot of fuzz for the baby to suck on) Although the stiches could be seen it did not take away fron the cuteness of the bear. I also stictched on the eyes and nose with yarn (and thanks to Junes recent post on eye placement, went very smoothly) I did have a little trouble with attaching the pieces but nothing that caused a great problem and I figured out some tricks to help me the next time. This will be a pattern I will use again and again. I highly recomend it!
Congrats Brigitta – I'll email you to find out which pattern you'd like as your prize 🙂
To be entered into this month's draw for a free pattern of your choice, just write a review of any product in my shop – thank you!
New Donationware
With Christmas approaching, I wanted to make sure I had all my seasonal craft tutorials available as easy-to-print donationware for you. Now you can find all 5 Poinsettias (made with crochet, punchneedle, beaded, felt, and polymer clay) and my Pom-Pom Christmas Tree instructions available as PDFs in the shop for a minimum donation of $1 apiece:
You can easily find them all – and my other seasonal patterns – by searching for Christmas in my shop.
And my new Christmas crochet pattern is on its way too – all being well, I hope to launch it later this week…