I usually keep my designs a secret while I work on them, in case I fail to create what I can see in my head (it happens!), but last week, I was crocheting away on my new design and I spontaneously decided to host a contest on my Facebook page, to guess what the design would be. I released one text clue every hour, and people could guess again after each clue was released. It took 5 hours and almost 100 comments before we had a winning guess of Aardvark, by which time my design was well on the way to completion. It was so much fun to have people keeping me company with their guesses as I worked, I think I might do it again some time 🙂
I don't know why the idea to crochet an aardvark popped into my head, but, once it did, I had to drop all my other projects immediately and get to work – that's the way my crazy brain works. The aardvark is just so cute and funny and distinctive looking, I thought it would be the perfect subject for a one-colour design, where all the magic is in the shaping.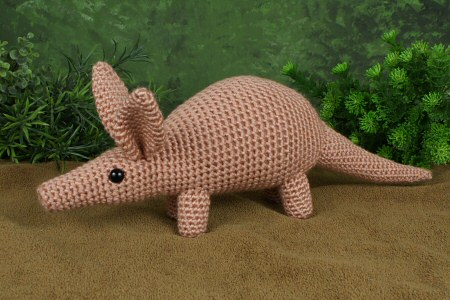 It was easy enough to draw my aardvark sketch, but turning that 2D shape into the 3D reality involved a lot of trial and error to get it smooth and perfect and in proportion. I think I succeeded though!
I also went for a change of scale with this design: I think Aardvark is one of my largest worsted weight amigurumi, at 13.5″ long from snout to tail.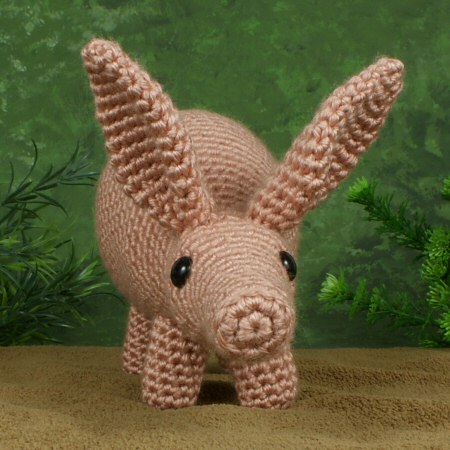 Aardvark Fun Facts
Aardvarks are found all over Africa.
The name "aardvark" means "earth pig" in Afrikaans.
Aardvarks live in burrows and eat ants and termites.
They weigh over 100lbs and their tail alone is 2 ft long.
Aardvarks independently evolved similar features to the unrelated Anteaters (who come from South America) – isn't nature amazing?!
I hope you like my funny little 'earth pig'. I'm hoping he'll be a talisman to keep the ants out of my house; he doesn't seem to be making much difference so far, but I love him anyway 🙂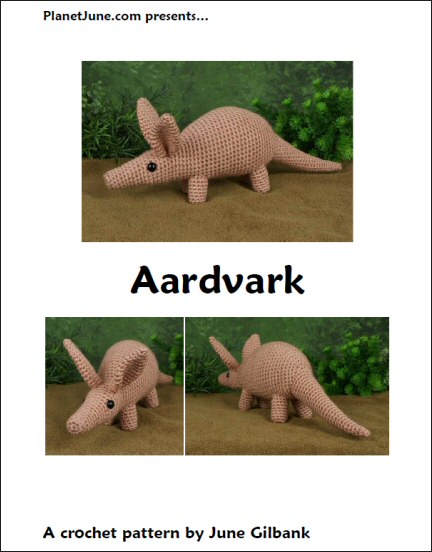 If you'd like to make an aardvark of your own, pick up the Aardvark crochet pattern from the PlanetJune shop!