I'm so very excited by today's achievement: not only do I have a complete set of three brand new AmiDogs patterns to launch, but this means I've completed 3 of the 4 remaining commissioned designs – finally, I've almost caught up with that crazily long waiting list for commissions!
Now, please allow me to introduce AmiDogs Set 8, consisting of three very diverse dog breeds: the Bernese Mountain Dog, Miniature Schnauzer, and King Charles Spaniel: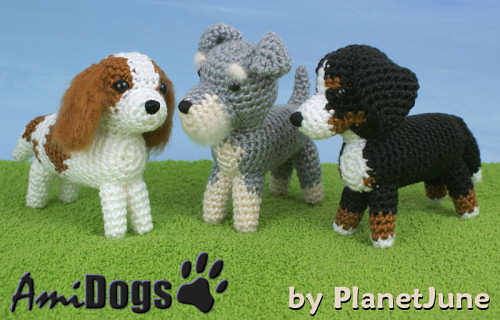 L-R: King Charles Spaniel, Miniature Schnauzer, Bernese Mountain Dog
In case you don't want to read this whole post and just want to buy some dog crochet patterns, here are the relevant links:
Now, if you're still with me, let's take a closer look at the three new dog designs…
---
About the Patterns
It's been an interesting challenge to make three such different dogs simultaneously. Domestic dogs, more than almost any other animal, have such a variety of shapes and colourings (and sizes, and temperaments, although those don't really translate into my designs!) It's amazing to think that people have encouraged this diversity with selective breeding over the centuries, and fascinating to compare how completely different various types of dog look, while still all being so obviously dogs.
The Bernese Mountain Dog is a sturdy tri-colour breed with distinctive markings.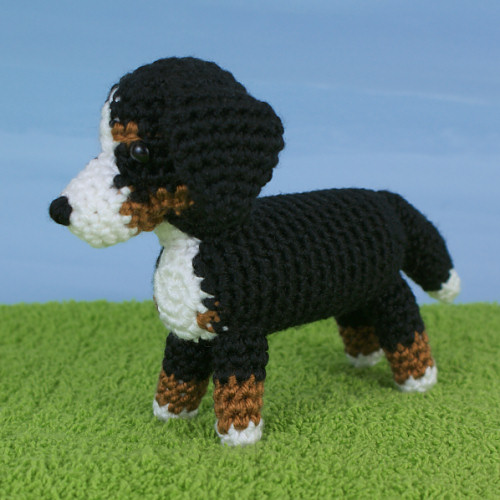 And a bonus: you can also use the same pattern to make an Appenzeller, Entlebucher, or Greater Swiss Mountain Dog, or a tri-colour Australian Shepherd.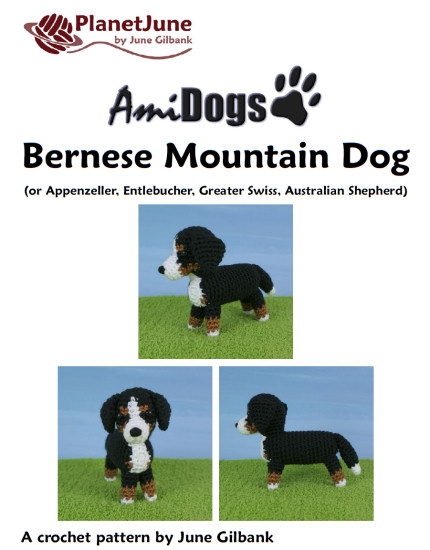 Queue/fave AmiDogs Bernese Mountain Dog on Ravelry now:
The Miniature Schnauzer is a real character with his fluffy beard and eyebrows!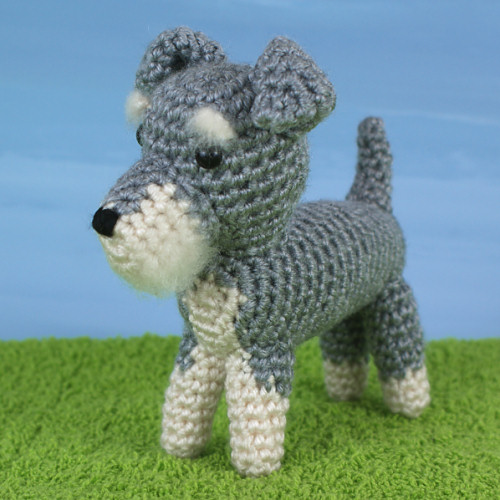 (Of course, this pattern will also make a Standard Schnauzer or Giant Schnauzer if you're looking for a pattern for either of those breeds – the only real difference is the scale…)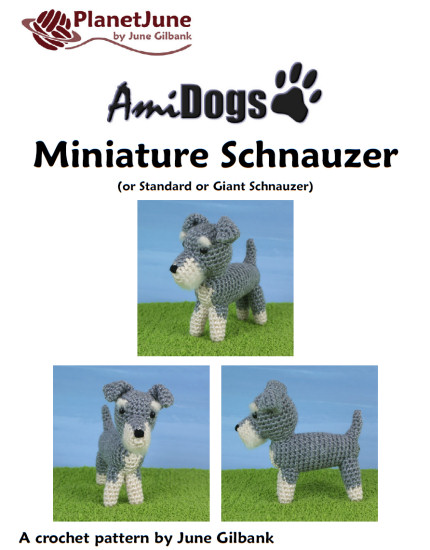 Queue/fave AmiDogs Miniature Schnauzer on Ravelry now:
And finally, the sweet King Charles Spaniel. My design is based on the Blenheim (chestnut and white) colouring of the Cavalier King Charles Spaniel.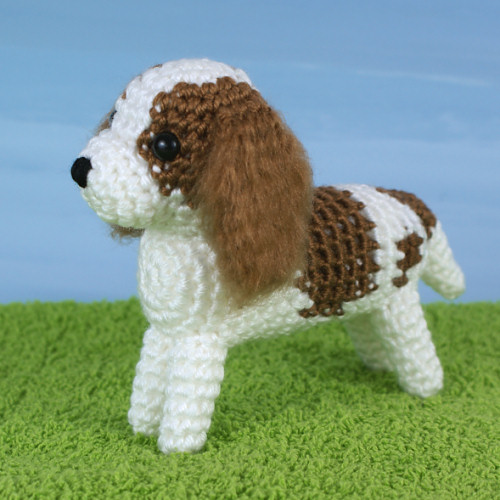 You can also use this pattern to make a King Charles Spaniel (non-Cavalier), Toy Spaniel, or Japanese Chin.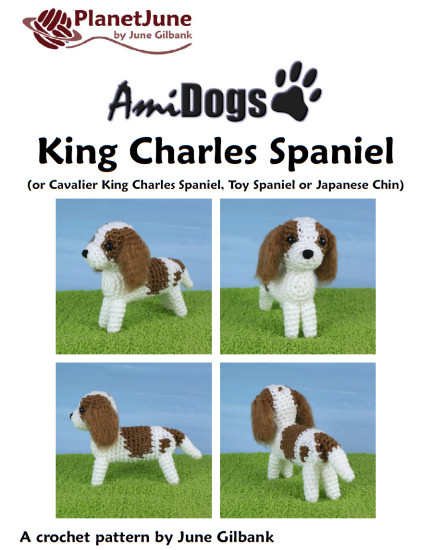 Queue/fave AmiDogs King Charles Spaniel on Ravelry now:
---
The Complete AmiDogs Collection
These 3 designs bring the total number of AmiDogs patterns to 24. And, while I'll never say 'never again', I think I'd need a long break before I even consider taking on any more dog breed designs. Although you may think it'd get easier with each new design, trying to distill the defining characteristics of each breed into a design that fits the overall aesthetic of the rest of the AmiDogs range – a range I started 8 years ago! – actually seems to get more difficult and constraining with time.
So, for now at least, I'm going to call it a day with these 24 designs and declare the AmiDogs range complete. 24 dog patterns, all completely different from each other – that's quite an achievement!
























I'd like to thank my commissioners for supporting me to make the final 3 designs and round out my collection. (If you haven't already, you can log into your PlanetJune account to download whichever of the pattern(s) you helped to make possible!)
---
Choose Your Favourites!
If you'd like to pick up the final AmiDogs patterns, you can now buy them individually from my shop (links: Bernese, Schnauzer, King Charles), or save money when you buy all 3 as the complete AmiDogs Set 8.
Or, mix and match your favourites from all 24 AmiDogs patterns: you can choose any 3 breeds for a special price when you buy the AmiDogs Custom Set. (And if you want 6, or 9, or any multiple of 3, just add the Custom Set to your cart multiple times, choosing 3 different breeds each time!)
---
I hope you'll enjoy these final 3 additions to my AmiDogs collection as much as I enjoyed designing them. Dogs are such special animals and I've really enjoyed getting to know much more about them over the 8-year course of this design series. 🙂