Allow me to introduce the latest member of my AmiDogs family: the Boxer!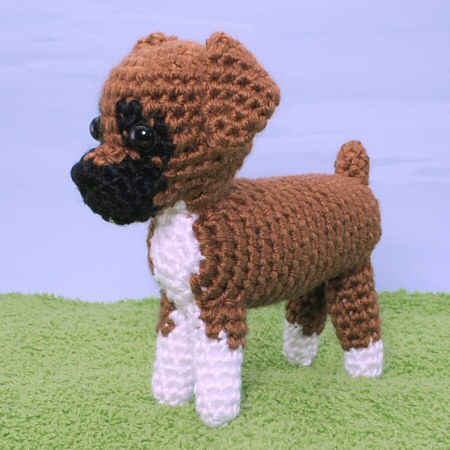 He's about 6″ long and worked in brown, white and black worsted weight yarn. I decided to go with natural, floppy ears, instead of the cropped pointy ones, but if you're desperate for a Boxer with sticking-up ears, I've also included modifications for that in the pattern 🙂















It's hard to believe that the Boxer is my 15th AmiDogs design! My first three AmiDogs were published in July 2007 – that's almost 3 years ago. Hmm, I suppose that 15 breeds in 3 years doesn't sound quite so impressive! But I have to go slowly with designing them or I get really bored (it's having to make and attach all those endless legs!). And a bored June is not a creative and happy June, so it may be another few months before I start on the next batch of AmiDogs.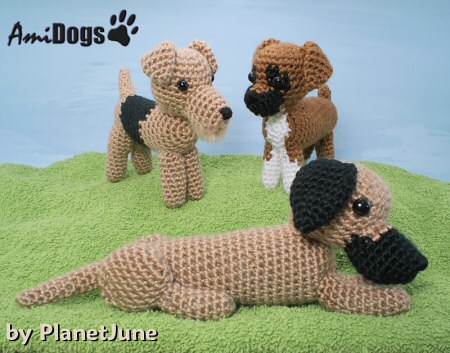 Bit of a size difference going on here!

Now I've finished another three designs, AmiDogs Set 5 (Great Dane, Airedale Terrier and Boxer) is also ready to go. But if you'd like to mix and match your own three favourite breeds, you can use the Custom Set feature in my shop to choose any 3 dog breeds for the same special price.
I hope you like my boxer. It took a while to get the patterning on the face and muzzle the way I wanted it, but I think I've captured that special boxer quality!