Can you believe it'll be Christmas Eve tomorrow?! I hope you're more organised than I am this year – I've been so busy sorting through all our stuff to find things we can donate or sell before the big move, I haven't really had a chance to get into the Christmas spirit yet. We only put the tree up yesterday, and I have to brave the hordes for some grocery shopping today – what fun that'll be!
If you're stuck for a last-minute present for a crocheter on your list, how about a PlanetJune gift certificate? Buy them in any amount from $5 to $100 and let your recipient choose her (or his) favourite patterns and tools/accessories from my catalogue! And as a gift to you, for every $10 in gift certificates purchased, I'll give a $1 gift certificate to the purchaser.
So, for example, if you buy $50 in gift certificates, I'll send you a $5 gift certificate for yourself (or you can pass it on to someone else as an extra gift). This offer is valid until the end of the month. You can instantly send your gift certificates (by email) from your PlanetJune account as soon as you've purchased them, so they make a perfect last-minute gift.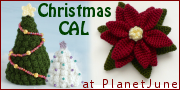 You still have until tomorrow (Christmas Eve) to enter the PlanetJune Christmas CAL (& contest). If you've made anything this year using any of my Christmas patterns pictured below, don't forget to enter – you might win a prize, and you'll get a discount code just for participating!
First prize: a $10 gift certificate to spend on anything in the PlanetJune store
Second prize: a free pattern of your choice from the PlanetJune store
Runner-up prizes: I'll send a discount code to all participants, to use against their next order from the PlanetJune store.
It's easy to enter the contest: just send an email to CAL@planetjune.com with either a link to where you've posted about your project, or a photo of your completed project. Remember to send one email per pattern you've made, so you'll get your bonus entries!
I've sent replies to all the entries I've received, so, if you haven't had an email from me, you haven't entered yet. Please send your pics asap – I want to start putting together my grand Christmas Day CAL roundup post!
Oh, and while you're entering contests, how about posting some reviews of the PlanetJune patterns you've used this month – you could win the December Review and Win contest…
Okay, I've taken up enough of your time – get back to your Christmas preparations!