I've revamped my incredibly popular Turtle Beach blanket design into two new patterns, showcasing two different designs and two different colour schemes that you can mix and match: cool and calm true blues or tropical teals, in the classic colourblock design or my new ombré version.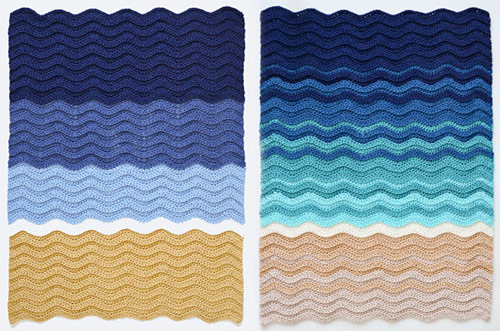 Left: Classic Blue Turtle Beach blanket; Right: Teal Ombré Turtle Beach blanket
The more I look at them, the more undecided I am about which Turtle Beach blanket I like best – how about you?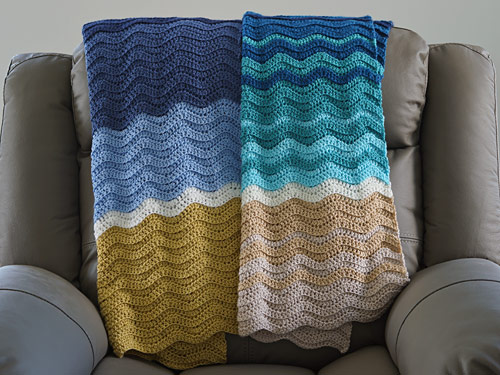 Here's the Classic Blue Version: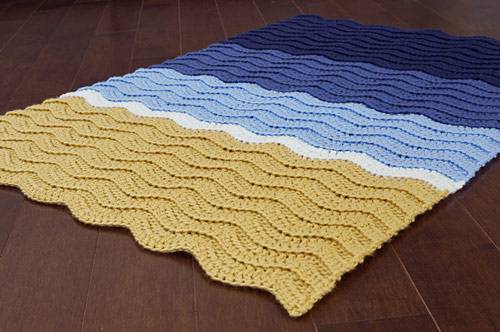 And the Teal Ombré Version: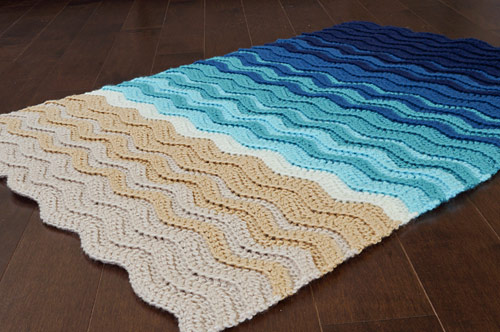 Just look at that rippling wave effect!
The good news is you don't have to choose; you can make either colour scheme in either style, or one of each! And, as well as selling the patterns separately, I've bundled them into a Turtle Beach Blanket multipack, including both the Classic Blue and Teal Ombré blanket patterns.
About the Patterns
I've packed these patterns full of information – each one includes complete row by row crochet instructions for the 8 most common classic afghan sizes, ranging from a small baby blanket through to a king size afghan. For each afghan size, the yardage for each colour is also provided, so you'll be able to order all your yarn at once and know you have enough.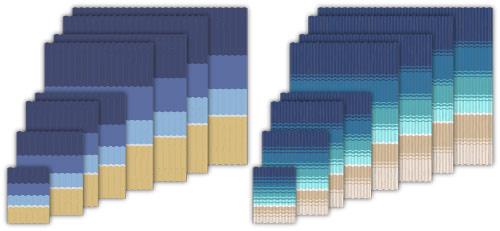 Blanket/Afghan sizes included:
Baby (approx 24×32″, 60x80cm)
Lapghan/crib (approx 36×48″, 90x120cm)
Toddler (approx 40×48″, 100x120cm)
Throw (approx 48×60″, 120x150cm)
Twin (approx 60×85″, 150x215cm)
Full/double (approx 74×85″, 190x215cm)
Queen (approx 80×90″, 200x230cm)
King (approx 96×90″, 245x230cm)
Choosing Yarns
For this pattern I've used light worsted weight yarns (medium #4 weight), specifically Red Heart Soft and Bernat Satin. You don't need to use exactly the same yarn as me – the most important factors are to find colours that you like and that work well together, and that are readily available to you!
As worsted weight yarns can vary considerably in thickness and sheen, I also recommend that you try to choose yarns that are similar to each other if you can't find all the shades you need within one brand and line of yarn. See my worsted weight yarn comparison for examples and my recommendations for which yarns can be mixed and matched.
---
The Turtle Beach Collection
With the release of these patterns, I've also taken the opportunity to revamp all my other related patterns into a full Turtle Beach Crochet Pattern Collection. You can mix and match patterns within the collection to make your own custom blanket:
Mix and match colour schemes and stripe patterns with the Classic Blue and Teal Ombré blankets.
Add custom details (an edging and puffy 3D seafoam effect) with the Ribbed Ripple/Turtle Beach donationware blanket pattern.
Add any combination of the original 3D stuffed baby sea turtles, the new flat appliqué turtles, and puffy or flat starfish.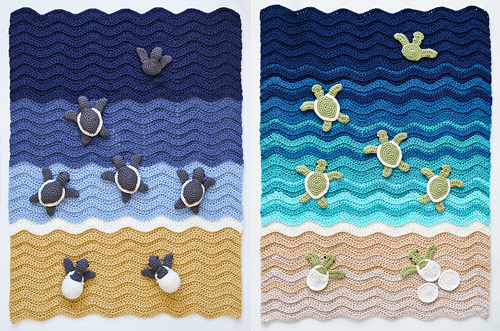 Left: Classic Blue blanket; stuffed 3D turtles
Right: Teal Ombre blanket; flat appliqué turtles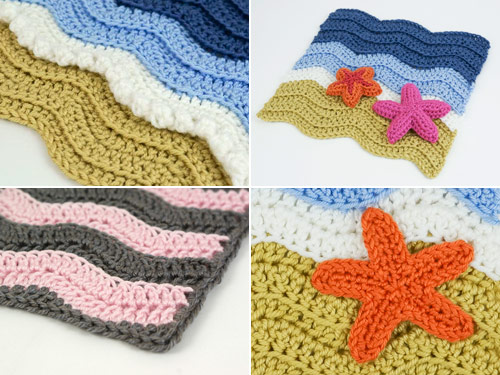 Clockwise from top left: 3D seafoam, puffy starfish, flat starfish, squared-off edging
Turtle Beach Collection Deals!
You can explore the details of all the patterns in the Turtle Beach Collection here, but here's a rundown of just the new deals:
I've bundled both new blanket patterns into a Turtle Beach Blanket multipack, including both the Classic Blue and Teal Ombre blanket patterns.

Baby Sea Turtle Collection now includes a full bonus pattern for a Swimming Turtle to stitch to your blanket. (If you've already bought this pattern, you can download it again from your PlanetJune account and you'll automatically get the latest version.)

You can also now buy a multipack of all 8 baby sea turtle patterns (turtle, hatching turtle, swimming turtle, turtle egg, with all four options in both 3D and flat versions).

And, if you already donated more than the average amount of $3.50 for the original Ribbed Ripple/Turtle Beach blanket pattern, and you'd like to buy the new blanket pattern(s), I can issue you with a credit for the additional amount you paid (over $3.50), to put towards the new Classic Blue version. ETA: For the rest of October 2021 only, even if you donated under $3.50, I'll still send you a discount code!To get your discount, just email me with the following details:

The order number for your original donation (you can find this in your PlanetJune account or your confirmation email)
Which option you'd like to apply your credit to:

Turtle Beach Blanket (Classic Blue Version)
Turtle Beach Blanket multipack (includes both the Classic Blue and Teal Ombre blanket patterns)

I'll send you a discount code, or, if you've already ordered the new patterns, let me know and I'll send you a gift certificate for you to use later!
---
Phew! That was a lot of info to get through! I hope you've enjoyed seeing all the options in this post, and that you'll have fun choosing your favourite options from the Turtle Beach Collection. Once you've selected your blanket size, colourway and stripe pattern, flat and/or stuffed turtles, and any of the other optional extras, you'll be able to mix-and-match to make a gorgeous one-of-a-kind blanket.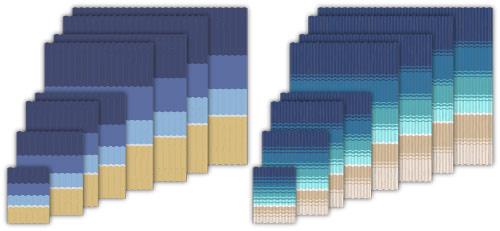 I'd love to see your finished blankets (or anything else you've made from my patterns) – please do share photos with me! I'm @PlanetJune everywhere (on ravelry and social media) or you can email me – I always love to hear from you 🙂