A brief time-limited announcement before we begin: Amazon (US only, sorry) is having a super-sale on the ebook version of my last book, Everyday Crochet. It was supposed to be a one-day sale, but, as I write this, the price is still just $1.99 – it's a crazy bargain, so please don't miss out! Buy Everyday Crochet now! >>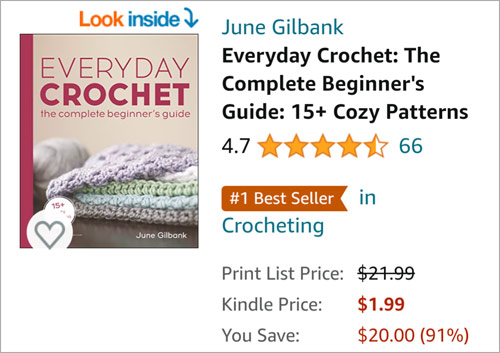 And, if you already bought it this weekend (or any time), it'd mean the world to me if you could leave a review on Amazon – thank you ♥
Now back to our regularly-scheduled programming…
---
Each month in 2023 I'm sharing a Temperature Snake CAL roundup with a collage of some of our snakes' progress – even if you aren't joining in, I think you'll enjoy seeing all the snakes growing throughout the year!
It's hard to believe this is the penultimate roundup – just one more set of interim photos to go after this and then it'll be time for the final CAL gallery!
Here's the October collage from some of the latest photos that have been posted to the CAL threads on Discord and Ravelry, plus some from people who've tagged me (@PlanetJune) on FB and IG or emailed to me: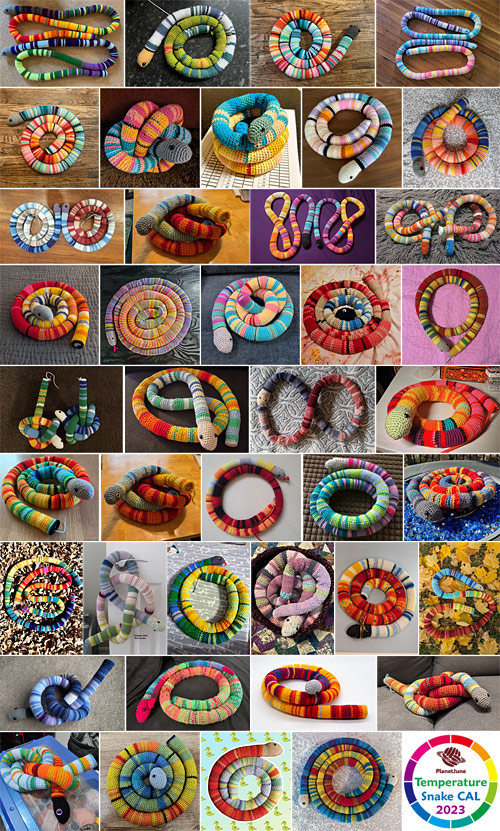 Click to see the full-size collage
Can you spot your snake?
Now we're getting towards the end of the year, the different colour palettes are so clear! It's fun to look through the photos and see which snakes look like they might be related and which look completely different. But, as I anticipated, every snake is unique, and I love that!
If your snake has been lagging, come and join us in the PlanetJune community groups, and we'll cheer you on. Some CALers have caught up on a few months of their snake during October – with only 20 stitches per day, that's very possible, and you can do it too!
And, if you'd like your snake to be included in the last monthly roundup before the final gallery, please post an up-to-date pic (or email it directly to me: june@planetjune.com) by 9am EST on December 3rd. Do remember to tag or DM me (@PlanetJune) if you post on social, and make your post public, or I won't see your pic.
We're heading into the home stretch now! Keep going 🙂