The Summer of Dinosaurs crochet-along was a huge success, with new dinosaurs joining the herd pretty much every day, until we had an amazing 129 completed projects by the end of July! Here's an overview of all 129 dinos completed during this CAL so you can admire our epic yarny Jurassic Park (if you'd like to see any of the projects in more detail, click here to view the CAL gallery in full, but you'll need to be a Ravelry member to see them):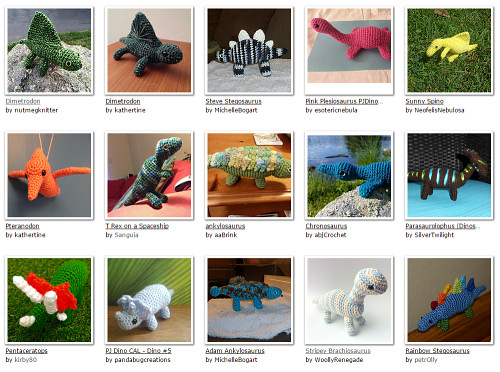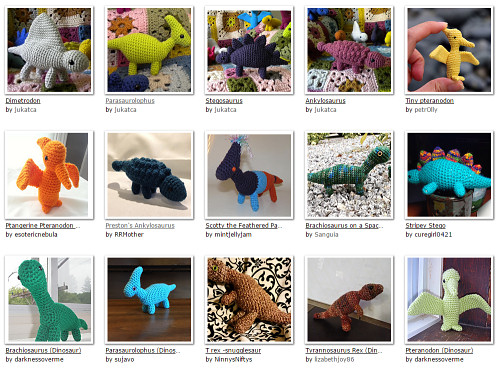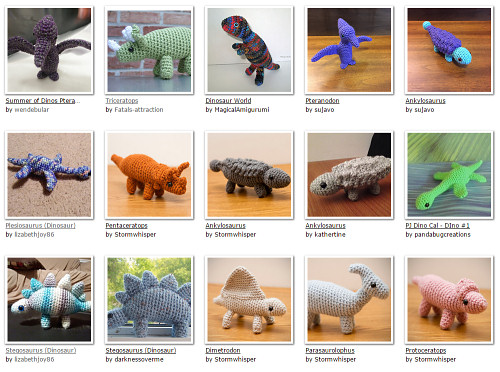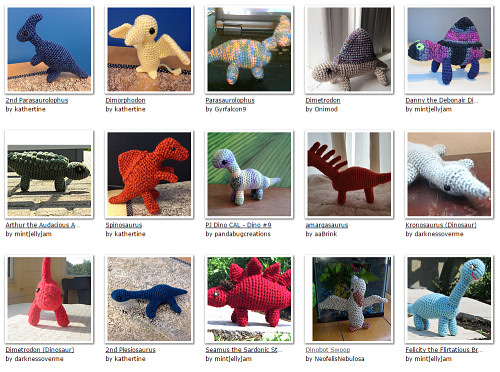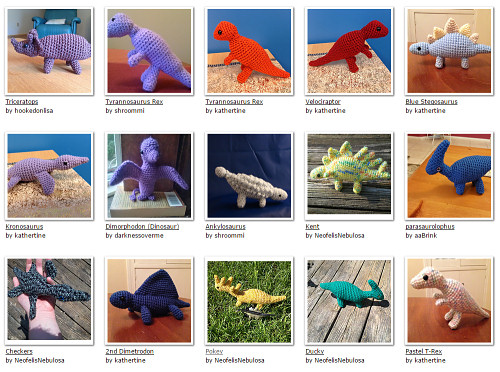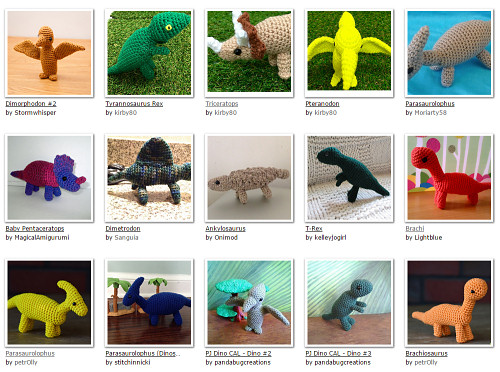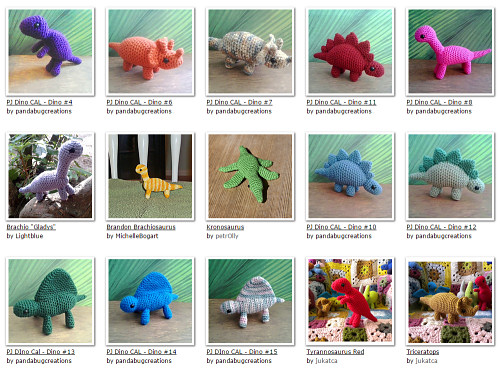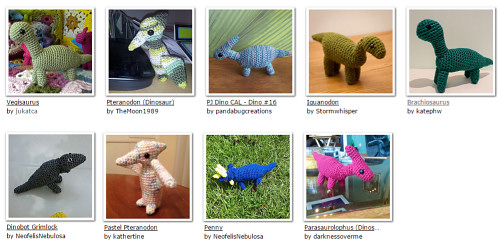 What an amazing collection! I love the variety: colours, styles, sizes, customizations, and photo staging. And top quality crocheting by all involved!
The Prizes…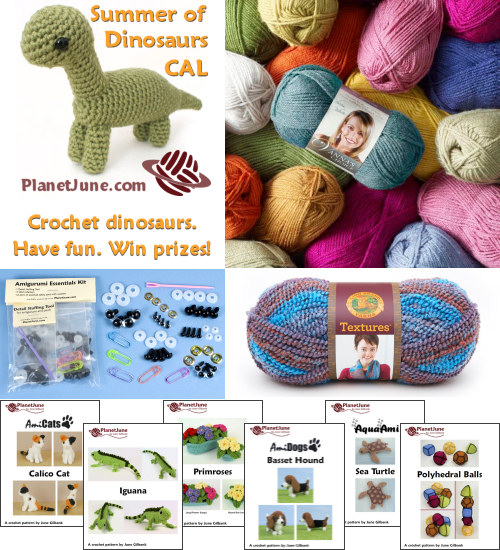 This was a prize CAL, generously sponsored by Lion Brand. The Grand Prize yarn will be provided by Lion Brand and shipped directly to the winner, and I'm providing all the other prizes.
Grand Prize: 3 skeins Vanna's Choice (the yarn I used to make all my dinosaurs!) and 1 skein of the gorgeous new Textures yarn plus a PlanetJune crochet pattern of your choice
Second Prize: a PlanetJune Amigurumi Essentials Kit plus a PlanetJune crochet pattern of your choice
Third Prize: a PlanetJune crochet pattern of your choice
Runner-up Prizes: there are no losers at PlanetJune! All other participants who complete one or more entries in the CAL will receive a 10% discount code towards your next order from PlanetJune.com 🙂
I grabbed all 129 entries and pasted them into Excel so they were in numbered rows, sorted alphabetically. Then I used random.org to generate 3 numbers between 1 and 129 (inclusive) for the winners. And they are:

Grand Prize winner: #31 kathertine
Second Prize winner: #74 NeofelisNebulosa
Third Prize winner: #98 pandabugcreations
Congratulations to the winners! Look out for a Ravelry PM from me so you can give me your details for your prizes. And to all the other participants, I'll be PMing you too, with your runner-up discount code 🙂
Thanks to all of you who particiapted, for making this crochet-along so successful – it's been an absolute pleasure to see all these wonderful ami dinosaurs popping up over the past 7 weeks!
There's always a crochet-along running in the PlanetJune group on Ravelry. If you'd like to join a current or future CAL, please join our group and participate as often as you want – we'd love to see your projects.