We've lived in South Africa for over 4 years, and still hadn't been on a safari… Until last week, that is!
We planned to go to the Kruger National Park (one of the best places in the world to see wild African wildlife) this year, but my recovery after the knee surgery has taken a lot longer than expected, and I'm not up to being quite that adventurous just yet, so we've to start small(er) and work our way up to Kruger. There are smaller private game reserves that are much closer to home. We decided to visit the closest one, Aquila, for a day trip, as it's just a 2 hour drive from Cape Town into the wilds of the Karoo.
Game reserves are nothing like 'safari parks' you may have visited elsewhere in the world, which are just open-plan zoos where you can drive your car through the animals' enclosures. A game reserve is a wild area protected for conservation, where the animals ('game') can live wild and free in their natural environment, but safe from hunters and land development. There are no roads, only tracks, and the game drives are conducted by experienced rangers to keep everyone safe – these are true wild animals, and could be dangerous if not treated with respect.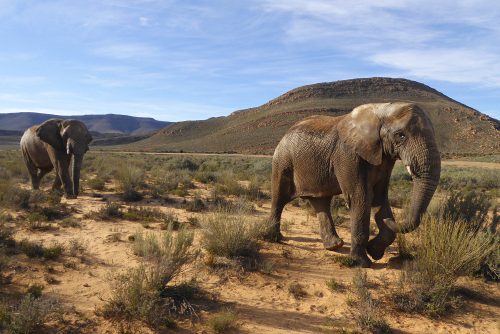 My favourite photo from the safari: these elephants walked right past our vehicle!
We headed out for our game drive in the 10,000 hectare reserve in an open-sided 4×4 safari vehicle driven by our ranger and guide. The Karoo is a stunning natural environment, and we saw zebra, hippopotamus, wildebeest, buffalo, white rhinoceros, lions, giraffe, springbok, eland, and of course elephants! It was an absolutely amazing experience and quite emotional for me (especially seeing wild rhinos and knowing how prevalent the poaching problem is and that these animals could be killed for their horns, despite everything that's being done to try to stop the poachers).
Photo Gallery
I'm trying something new with my photos this time – I've installed a new photo gallery so you can see much larger versions of my photos. This page should load quickly with thumbnails of all the pictures (below) to give you a taste, so I can include more photos without slowing down the site. If you click any photo, the gallery will open and let you see them all super-sized – much larger than my previous photos (like the elephants above, which you can also see larger, as part of the gallery below).
I really hope you enjoy the larger photos; if you like the new gallery feature, please do let me know. (I'd like to update my previous wildlife posts with larger versions over time, if you'd appreciate seeing them too?)
This trip was an unbelievable experience, and (although of course photos don't convey how it feels to have the privilege of getting close to some of the most amazing animals in the world, living wild and uncaged) I'm glad I can share a glimpse of it with you.
I hope this will be the first of many safaris for me in the coming years; there are lots of other private game reserves to visit, and I'm still hoping to get to Kruger one day.
Please let me know if you've enjoyed my photos (and the new gallery)…