Anyone for (Crocheted) Fruit?
I was honoured that some of my crocheted fruit patterns were used to create the farmer's market-themed window of the Lion Brand Yarn Studio store in Manhattan! (All the non-PlanetJune fruit and veg were freestyled by the creators of the window display.) I'd love to see this window in person, wouldn't you?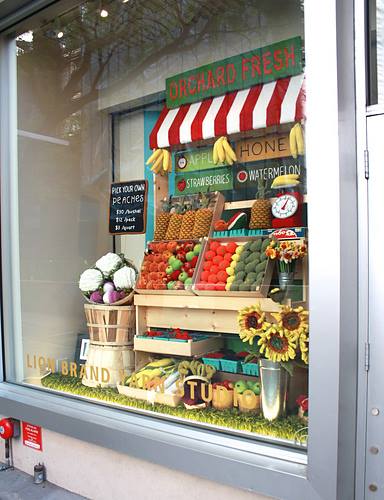 Photo courtesy of Lion Brand.
Read all about it in the Crochet World newsletter (no longer available), or try my free patterns to make your own: Amigurumi Pears, Amigurumi Citrus Collection (and Amigurumi Apples – not pictured above, but the perfect way to round out your crocheted fruit salad!)
Summer of Dinosaurs CAL
The Summer of Dinosaurs CAL was a massive success, with well over 100 entries! I'll be posting the winners of the contest and a roundup of our amigurumi dinosaur army here in a couple of days 🙂
Free-For-All CAL
Keeping it simple for the summer, the August crochet-along is a free-for all! That means free choice: you can join in by making any PlanetJune patterns, including finishing up WIPs you've already started.
You can make any PlanetJune patterns from my shop (amigurumi and accessories), any free patterns from my website, or any of the patterns from my books – lots to choose from! Luckily Ravelry has a nice list of all 212 patterns on my designer page if you feel like browsing 🙂
(Until I wrote that paragraph, I had no idea I had so many designs. That's an average of 25 designs per year for the 8.5 years I've been a crochet designer… Wow!)
Review and Win contest
You're automatically entered in the next monthly draw every time you write a review for a PlanetJune pattern you've enjoyed – and you'll also be helping future customers make an informed decision about patterns they are considering buying.
As I didn't post a monthly update in July, I have two winners to announce today 🙂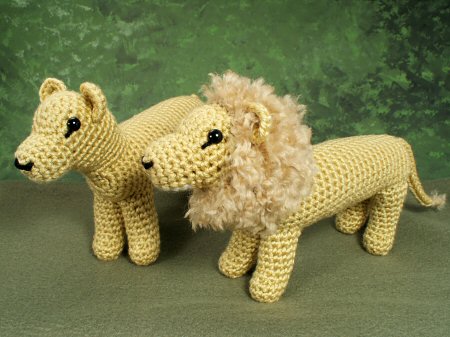 June's winner is Heather R's review of my Lion & Lioness pattern:
Having made both the lion and lioness, I could not have been more thrilled with this pattern! June's pattern is both realistic and adorable. This pattern includes loop stitch for the lion's mane – something I had never attempted – but the instructions are very clear, and there is even a video online which is incredibly helpful. I found the pattern easy to follow and loved the end result!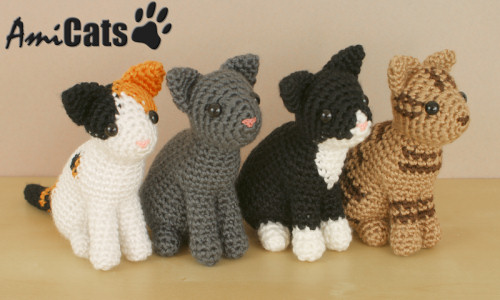 And July's winner is Jaclyn M's review of my AmiCats Calico Cat (far left in the above photo of the AmiCats Collection):
This was the first pattern I bought from PlanetJune, and I was not disappointed! The pattern is very easy to follow, with lots of pictures and detailed instructions. I was very pleased that my cat came out looking like the picture. In fact, I was so pleased that I bought two more AmiCat patterns!
Congratulations, Heather and Jaclyn – I've emailed you both to find out which pattern you'd like as your prize!
What's Next?
This month, I'll be busy with three AmiDogs design commissions, and I'll be working on some new amigurumi, PlanetJune Accessories designs and non-crochet craft projects for next season. I'm hoping to squeeze in a visit to my family some time this year, so I have to try to get ahead now so I can afford to take some time off later – I love being self-employed, but it does require careful planning… 🙂