Summertime is typically the slowest season for crochet, but perhaps I can tempt you back to your hook with a choice of two PlanetJune crochet-alongs to join in with for July and August? Both include some small, quick pattern options if you're short on time.
If you feel like something a bit different, how about joining the new FantastiCAL, featuring all the PlanetJune crochet patterns with a fantasy/mythical theme: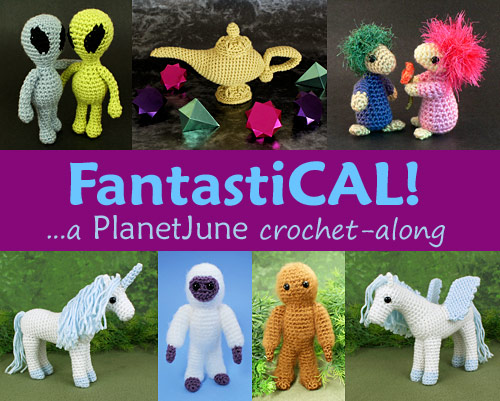 Aliens, Yeti, Unicorns and more – which will you choose?
And, with 99 participants so far and over 60 finished projects, the BotaniCAL is still going strong, so I'm extending it through to the end of August to give everyone more time to finish their projects (or start more…)
You can choose from any of the PlanetJune plant, fruit and flower crochet patterns. If you haven't joined yet, you're welcome to sign up, and you'll still qualify for the CAL discount on the Succulent Collection 3 and/or 4 patterns 🙂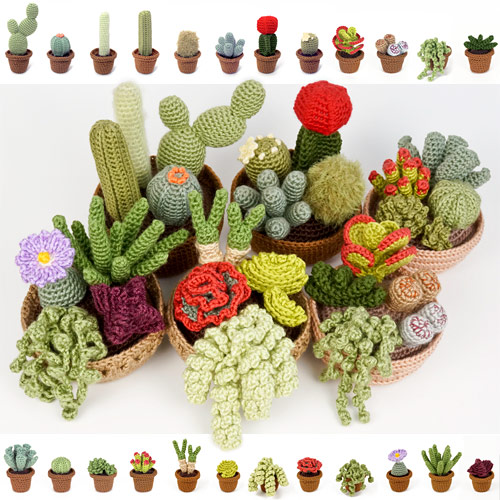 These are just (most of) the cacti and succulent choices – you have over 30 botanical patterns to choose from!
You'll find both CALs in the PlanetJune Ravelry group, and you're welcome to join either, or both.
Choose your patterns now:
Then come and join us on Ravelry and tell us what you plan to crochet this summer…