Just before Christmas, Dave spent a week working at one of the big telescopes at Sutherland, 400km from Cape Town. I decided to take a road trip to meet him out there and bring him home for Christmas. I thought you might like to see more of the South African landscape and wildlife, so I documented what I could for you to enjoy too!
The drive was lovely and I saw some amazing animals along the way – baboons, pelicans, blue cranes, lizards, and various birds of prey and brightly-coloured songbirds – but it's not easy to take photos of moving targets while driving! By the time I'd stopped the car (when I could), the wildlife had run or flown away. In fact, the only animal I managed to photograph en route was a slow-moving baby tortoise…  But the scenery is pretty spectacular too, and I did get some nice wildlife pics once I reached the observatory.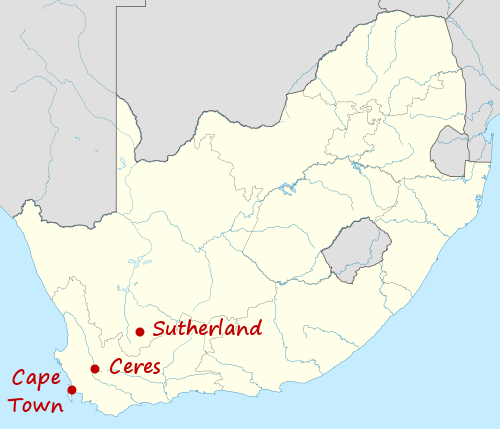 This doesn't look like a massive road trip on the scale of the size of the whole country, but it goes through farmland, mountains, and semi-desert, and both the scenery and weather change completely as you go.
Leaving Cape Town and heading east takes you into the Cape Winelands region (if you've enjoyed any South African wine, it probably hails from here!) Nestled between mountains in the middle of the winelands, the Ceres valley has the perfect climate for fruit-growing, and I decided to make a pit-stop there. Although it added another hour or so to my journey, it was well worth it: there's a short but wonderful cherry season here in December, and going cherry picking has become one of my favourite annual traditions.
Continuing north-east, the Cape Winelands gives way to the Karoo – a vast, harsh, semi-desert landscape, and the largest ecosystem in South Africa. The trees disappear and are replaced by low scrubby bushes and aloes that can survive the hot, dry climate. It's huge and empty and you can drive for an hour without seeing another car.
The astronomical observatory is located on a hilltop in the middle of a nature reserve near the small town of Sutherland. It has spectacular views of the landscape (as well as the night sky!) and it was wonderfully peaceful to wander around with my camera while the astronomers slept – they work all night and sleep all morning – and try to capture the surrounding wildlife.
Okay, enough talking, let's look at my photos:
I hope the peace and tranquility of my trip has come across in my photos – having all this stunning natural beauty on my doorstep is the absolute best thing about living in Africa.
PS – I'm now enjoying the last week of our relaxing summer staycation. We've been visiting national parks and nature reserves, so I may just have another wildlife photoblog post for you soon, before I get back to the crochet posts…