After 'graduating' from my long term project to teach myself to knit through designing and making 12 sweaters, I wasn't at all bored with sweater knitting, so my next project was bound to be… yep, another sweater to add to the pile!
As soon as I arrived back in Canada I loaded up on Michael's Loops & Threads brand Woolike yarn – it's a super-soft super-fine non-wool yarn with amazing yardage for the price, and I wondered what it'd be like to make a whole sweater from such fine yarn.
The answer? An incredible amount of work, but the result is my favourite sweater to date!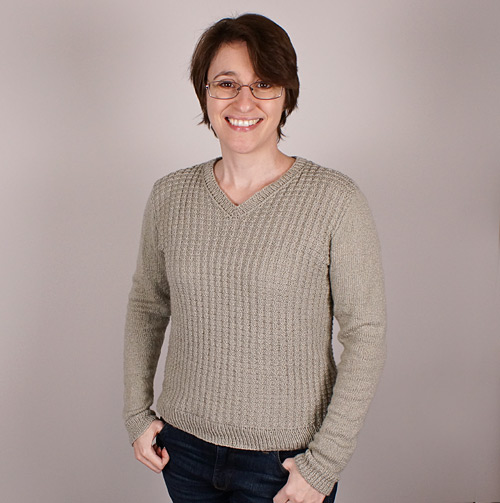 I wasn't sure what I wanted to do for this sweater, so I started by knitting plain stockinette sleeves while I pondered. It was slow going with such fine yarn and small needles, but I was encouraged to continue because the knitted fabric felt so soft, and looked so smooth and fine when I draped it over my arm.
I was worried that the fine knit wouldn't keep my torso warm enough, so I decided on a thermal stitch pattern for the body. This was the slowest thing ever to knit, but the pattern is neat and stretchy and snuggly, so it was a pleasure to watch it grow, however slowly.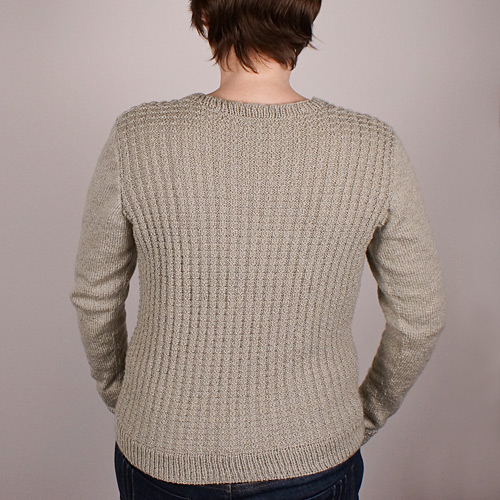 The fine yarn and stretchy stitch pattern gives it a wonderful flattering drape, even with no shaping built in. Doesn't it look good?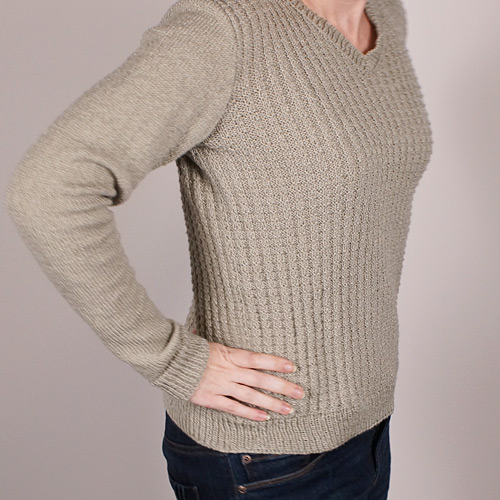 It was very fiddly to stitch the sleeves to the body neatly – with hindsight, I should have worked the last 2 stitches at the armhole edges in stockinette so I'd have a plain unpatterned edge for joining. My first seaming attempt ruined the whole look of the sweater, so I unpicked the join and tried again very slowly and carefully. I think it took the best part of an hour to seam each sleeve, but it was worth it.
After seaming, I finished my sweater with simple 1×1 rib cuffs and bands, which, again, took forever – switching between knit and purl for every single tiny stitch slows things down considerably – but now I could see that it was going to be a gorgeous sweater, I didn't mind at all.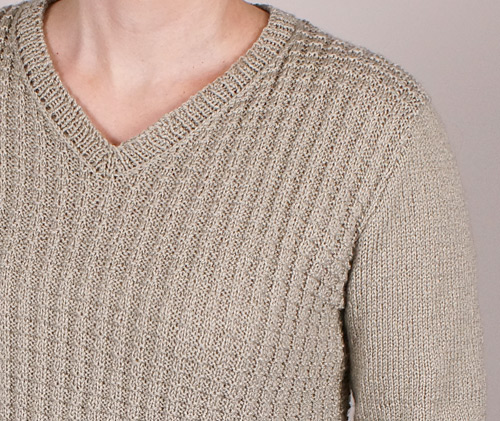 I love this sweater! The patterned body and smooth arms; the v-neck that isn't too deep (for warmth); the fit that I intentionally made loose enough to wear with a long-sleeved t-shirt underneath to keep me warm, but still nicely fitted… I'd have cried at spending so much time on it if it hadn't turned out well, but it's exactly what I hoped it would be.
I'd have liked to switch to smaller needles for the ribbing for the cuffs and bands, but I was already using my smallest (3mm) needles, so the ribbing isn't quite as neat as I'd like, although I don't think you'd notice if I hadn't pointed it out, right?
If I were making this sweater again I'd buy smaller needles for the ribbing, and maybe add a tiny bit of extra height to the shoulders, but overall I'm very pleased with how this one turned out, and it's now my favourite sweater in my wardrobe!
What's next in my knitting adventure? I'm trying something other than a sweater for once – I'm in need of a really warm hat…