I've tried something a bit different for my latest design for the AquaAmi range. My sea turtle is made with two colours of yarn, but is still all worked in single crochet in the round (apart from a few rogue hdcs). He is one of my largest and most ambitious designs to date, at 11″ (28cm) long from nose to tail, with a 12.5″ (32cm) flipper-span!
I've designed him so his head and limbs appear to stick out of holes in his shell. The top and bottom of his shell are each formed from 10 hexagons. Yes, that is a lot of stitching together, but I think it was worth it!
Some fun sea turtle facts I discovered while researching for this design:
Sea turtles, unlike other turtles, cannot retract their heads and limbs into their shells
Sea turtles have evolved streamlined shells and large front flippers so they can 'fly' through the water
Sea turtles spend almost their whole lives at sea, but females return to the same beach they were born to lay their eggs
You can tell females from males as the females have a very short tail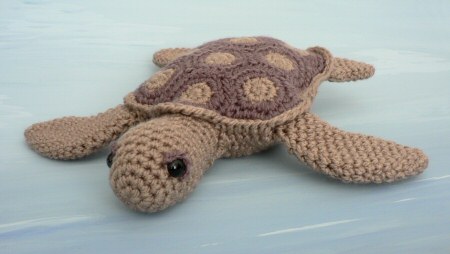 Here's his belly: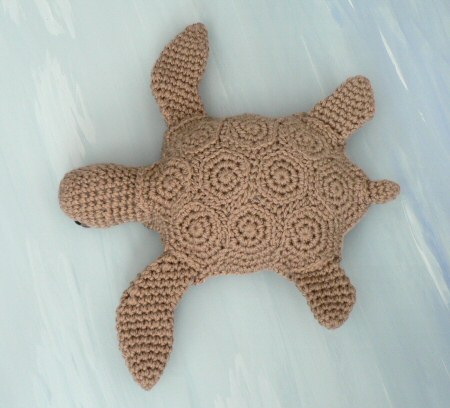 Once I have finished writing up and illustrating all the steps that go into making him, you'll be able to make your own Sea Turtle! Join my mailing list if you'd like to know when the pattern is available.
What do you think of him? I hope you love him as much as I do!
UPDATE: Looking for the pattern? You can find the AquaAmi Sea Turtle crochet pattern in my shop.