Nothing says Spring quite like the sight of a primrose. One of the earliest-blossoming spring flowers (the name 'primrose' is actually from the Latin for 'first rose', although it's not a rose!) you may also know these pretty plants as primulas, and the closely-related and similar-looking polyanthus.
But why wait for Spring? Bring a taste of spring into your home, whatever the season – a pot of crocheted primroses will brighten your day in a glorious riot of colour!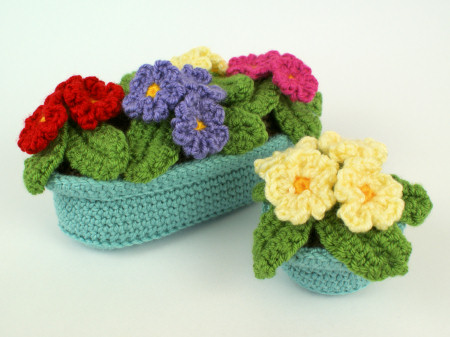 Primrose plants look so pretty with their crinkled leaves and heart-shaped petals, and I made sure to include those details in my design.
Primroses includes the patterns for two primrose arrangements: a large planter filled to bursting with multi-coloured blooms for maximum impact; and a small round pot containing a single plant perfect to brighten small spaces or as a gift in a hurry!
I've used some neat tricks to keep the construction as simple as possible, with surprisingly little sewing. I've included full details for assembling and arranging the plants so your primroses will look healthy and full with the least amount of pieces possible (no point wasting hours making hundreds of leaves when you don't need to!)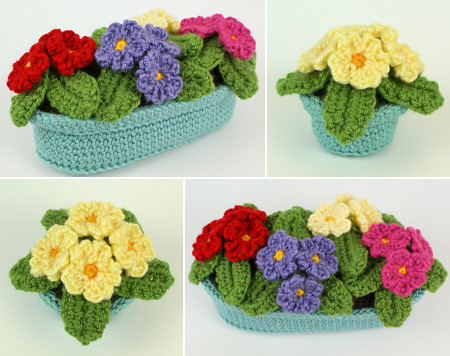 I try to come up with different and interesting pot constructions for each of my plant designs – that way, you won't be buying the same pot pattern twice. My primroses come with a matching set of a small round pot and a long planter; both of which have a shaped lip around the top edge. The lip looks good – just like a real plant pot! – but it also provides a sturdy support to keep the pot in shape.
You can also mix and match different PlanetJune plants with different pots for added value – for example, the primrose pots would look great filled with crocheted cacti or succulents, just as you could make a large round bowl of primroses by using either of the large pots from those patterns.
My colourful Primroses make me smile whenever I see them, and I hope they'll have the same effect on you! If you'd like to crochet up the joy of springtime, you'll find the Primroses crochet pattern in my shop right now.
Or, if you're not quite ready to make your Primroses, why not favourite or queue them on Ravelry, so you don't forget about them?