Not only fun to roll, stack, throw, and catch, these Polyhedral ('many-faced') Balls are very special: they are crocheted versions of the five Platonic solids; the only five geometric solid shapes possible where every face is identical and the same number of faces meet at each vertex (corner). Fun and educational!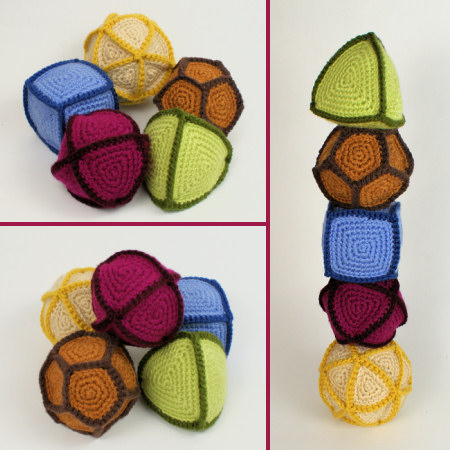 Not ready to make it yet? Add it to your Ravelry queue!
Or, buy the Polyhedral Balls crochet pattern right now and download it instantly from the PlanetJune shop 🙂
I carefully designed the component shapes so that (within the limits of 1 round of crochet) the finished balls are all the same size. And my construction and edging methods mean that they don't turn into spheres when you stuff them – the sides stay relatively flat without any hidden reinforcements, which not only makes them simpler to crochet together, but with no rigid plastic inside the balls, these are totally child-safe toys, made from only yarn and stuffing.
As well as being great as toys for kids to play with, they make good stress toys for adults! Plus I've discovered an excellent concentration/relaxation game: try balancing them all, one on top of the other – it is possible (provided the tetrahedron is always on the top), but surprisingly difficult to get all 5 to balance. You'll see I managed it for my cover pictures – there's no photo trickery there 🙂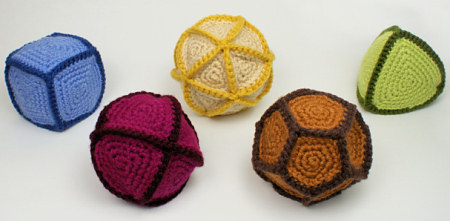 The 5 Platonic solids, L-R: Cube (6 sides), Octahedron (8 sides), Icosahedron (20 sides), Dodecahedron (12 sides), Tetrahedron (4 sides)
If you're not tempted yet by the fun or math-geeky aspects of these balls, here's one more fact that might persuade you: these are no-sew patterns. 100% crocheted, you only need a yarn needle to weave in a few ends and you're finished! And most of the ends are cunningly hidden on the inside, so even the end-weaving is very minimal too.
This pattern includes:
Crochet instructions for the 5 component shapes
A step-by-step photo tutorial for how to crochet the special edging
Right- and left-handed step-by-step assembly diagrams, if you'd like to assemble your balls in the same order I did (leaving the minimum number of ends to weave in)
Tips for speedier assembly and less yarn ends
A special technique to improve the look of the finished corners
This is also a modular pattern: although it includes all the detailed instructions you need to be able to recreate these balls perfectly – 16 pages total – if you'd like to save on paper and ink, you can choose to print only the pages with the pieces you need: a) the crochet patterns, b) the general assembly photo tutorial and tips, c) the right-handed assembly order diagrams and/or d) the left-handed assembly order diagrams. If all you want to do is print the crochet patterns for the 5 component shapes, that's all included on one page! I'm doing my bit for the environment 🙂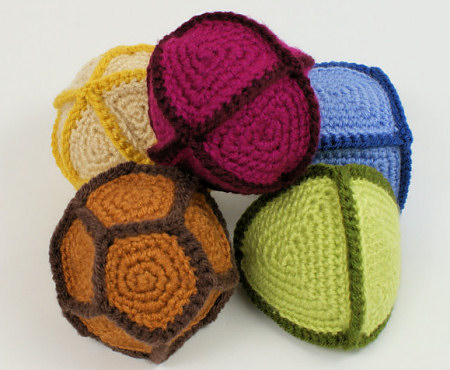 ---
Gamers take note!
Now, I don't know how much of a geek/RPG audience I have, but there's an obvious application to these balls that is just missing one little piece: with this set, we have a d4, d6, d8, d12, and d20… We're just missing a d10 to have a complete set of gaming dice! The construction and ridged edging of these balls mean that, as well as being a cute decorative set, they can actually even be used like real dice: they'll always land on one face. (To actually use one as a die it's best to throw it up in the air, spinning, and let it land – as it's large but lightweight, unless you have a large area to roll it across, you'll get a more random result if you throw it in the air first.)
The only problem is that a d10 is not a platonic solid – its shape is a little more complicated, as each of the 10 sides are slightly truncated kite shapes. I can do it, of course, but it would take a little more time, and trial and error, to figure out a) the right shape for a d10, and b) the right size so that the finished ball would match the rest of the set. So, the question is, would there be a demand for a 10-sided dice ball to complete this set?
If so, I'll design an add-on to this pattern that would include:
A truncated pentagonal trapezohedron (better known as a d10 to gamers) ball
Instructions for how to properly label the sides of all 6 balls to turn them into a set of functional gaming dice (embroidered numbers would look great for this, or fabric painted numbers would be a far easier option if you're not confident in your embroidery skills!)
So please do let me know in the comments if you'd be interested in buying the add-on pattern. I mentioned it on Facebook yesterday and I've already had a small positive response, so I need to know if there are more interested gamers/geeks (or people with gamers in the family – what better Christmas present than a set of giant crocheted gaming dice?!) before I design the d10. I'd do it with my commissions process, but of course I'm not going to charge anyone $6 for an add-on pattern!
---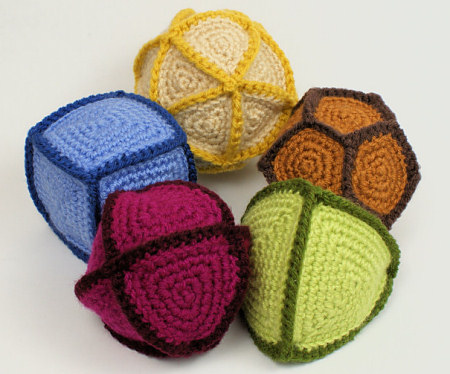 But, for now, if you'd like to, you can pick up the Polyhedral Balls pattern in my shop 🙂
Hope you like it!