I've had to reshuffle my plans a bit this month, as I polled my Ravelry group and discovered that mid-November (my intended release date for this year's festive pattern) was far too late, so here we are, a month earlier, and it's time to announce my Christmas design, complete with a launch week discount…
My Pine Cone Collection crochet pattern includes 6 different pine cone designs (3 thin and 3 round). Each cone is worked in one piece, with a clever, easy-to-memorize stitch pattern that results in highly realistic pine cones with perfectly offset scales.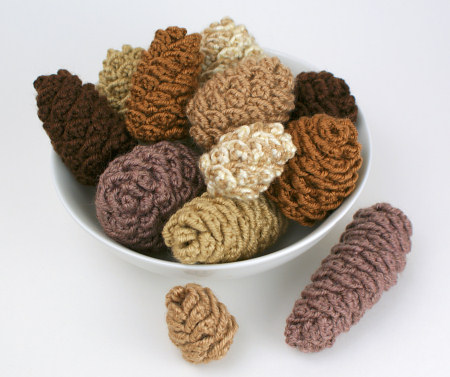 I'm very happy with how realistic these pine cones look in any shade of solid or variegated brown (I used 6 shades of Red Heart Soft and Bernat Satin for my cones; the exact shades are also given in the pattern) and I just couldn't stop making them once I got started. Once you grasp the concept for the scales it's really simple, with no counting involved, so they make a perfect TV-watching project where you don't have to concentrate much on what you're doing.
Make them in any colour(s), and pile them in a bowl or vase, make them into a wreath, hang them from your Christmas tree, or string them into a garland.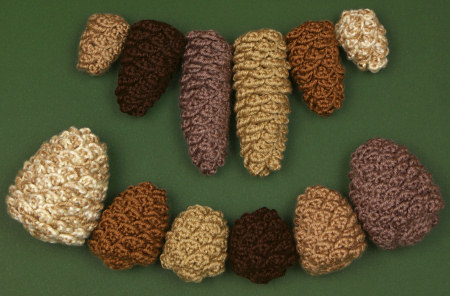 Of course, pine cones don't only make lovely Christmas decorations – especially in natural colours, they can be used as decoration throughout autumn and winter, or for natural woodland-look decor at any time of year.
If you are thinking about Christmas, wouldn't they'd also look wonderful in bright and/or sparkly yarns as tree ornaments, or grouped together into wreaths or garlands? (You'll have to use your imagination a bit here: apparently mid-October is far too early to find Christmas trees in South African shops!)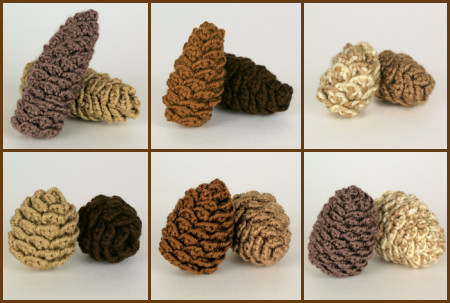 Pine Cone Collection includes the complete patterns for the 6 different sizes of pine cones pictured, 3 thin and 3 round, with sizes varying from 2-4″ (5-10cm) tall. The pattern also includes modifications that will enable you to make cones of any size, with the same overlapping scale pattern.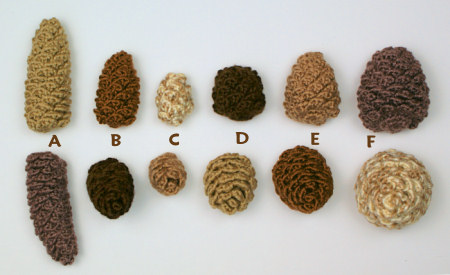 Thin cones: A (long), B (medium), C (short)
Round cones: D (small), E (medium), F (large)
If you like it, please don't forget to favourite/queue Pine Cone Collection on Ravelry:
This week only, you can pick up the Pine Cone Collection pattern with a special launch week discount. (There's no code needed; you'll see the special price automatically in the shop.) I love my bowl of pine cones – I think they are perfect for fall/winter decor – and I hope you'll enjoy the pattern too!