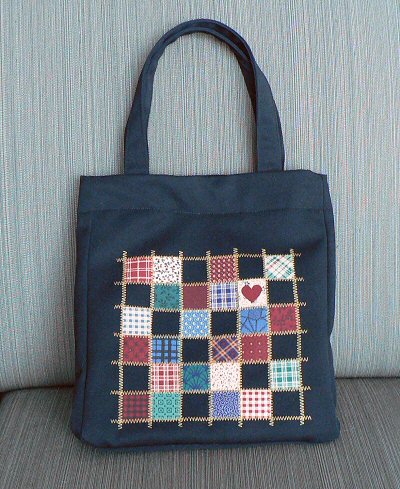 I made this bag for the January One Hour Craft Challenge. It's a smallish tote because I made it to be a lunchbag-in-disguise so I can bring food into work without being too obvious 🙂
I made up the pattern using the size of my lunchbox as the base of the bag. I used a thick black fabric for the outside, so it won't look grubby once I've used it for a while. I think it's supposed to be suit fabric, but it works for me as bag fabric! I made the lining out of thin black vinyl, so the interior of the bag can be wiped clean – always useful when it's going to carry food.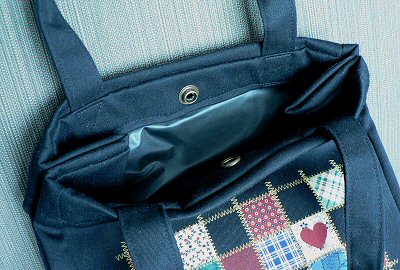 I made the handles from the same fabric as the outer bag, and the bag fastens with one snap in the middle of the top edges. I also added a pair of magnets on each side at the top (inside the lining) to stop the sides from sagging outwards when the bag is half empty.
The crowning glory is my machine-appliqued patchwork design on the front, inspired by Wee Wonderfuls' Hillary's zig-zag'd patchwork bag, which in turn came from the Japanese craft book Machine Made Patchworks. I changed the method a bit – I used HeatnBond to iron the patchwork squares into place on my fabric, and then used one careful line of zigzag stitching to anchor all the edges. I completed this step first, before even cutting the fabric for the bag. I've wanted to try this for months, and I am unfeasibly pleased with how it turned out. I've never even used anything other than straight stitch on my sewing machine before!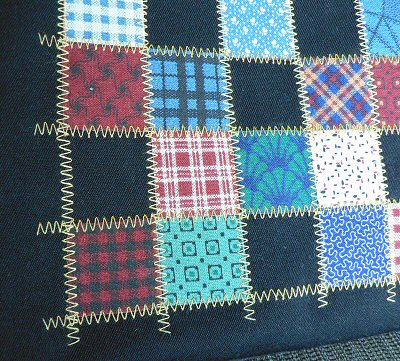 Love love love this patchwork! I have some fabric left over, so I'll definitely have to make something else to match my tote…