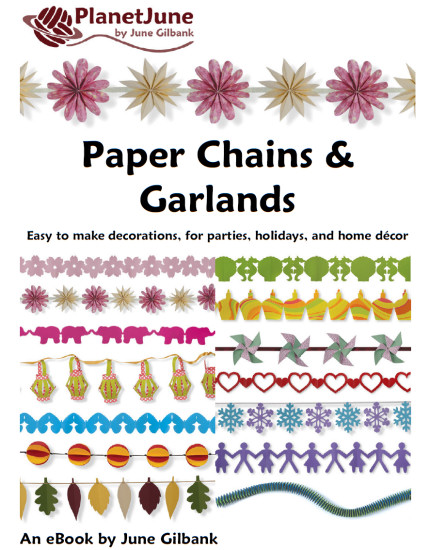 Don't miss my ebook! Paper Chains & Garlands (2nd Edition) is now available in a handy PDF format including 10 pages of printable templates, exclusively from PlanetJune. 
If you've been looking for fun craft projects to try with the kids, inexpensive ways to decorate for parties and holidays, or just want an easy introduction to papercrafting, look no further. Try your hand at origami, papercutting, and a variety of other papercrafting techniques, all explained in my clear, easy-to-follow style with step-by-step illustrations.
(Bought the original 1st edition in print? Upgrade to the 2nd edition for a special price! See here for details.)
---
I also have a variety of simple and decorative free papercraft tutorials for you, listed below. Most are also available as donationware (easy-to-print PDF files, for a donation of whatever you feel they are worth). See the link on each pattern page, or find them all in the Papercraft section of my shop.
| | |
| --- | --- |
| | Kusudama Flowers These stunning paper flowers are created by first folding origami flower petals and then gluing them together into flowers. Even a single flower makes a beautiful decoration, for example: a lovely place setting, a wedding favour, or a buttonhole. |
| | Tissue Paper Carnations Who'd have thought you could easily make such pretty and realistic carnations from tissue paper?! As well as beautiful decorations or gifts, these are perfect for weddings: make everlasting boutonnieres, table decorations and even bridal bouquets, and keep your wedding flowers forever as a memento of your special day. |
| | Origami Poinsettia This paper poinsettia makes a lovely easy ornament. It measures 3″ (7.5cm) in diameter, but can be easily scaled to any size by starting with larger or smaller squares of paper. Beads or a button add a decorative finish. |
| | Lucky Wishing Stars These sweet little 3D origami stars are easy to make from a single strip of paper. Known as lucky stars, wishing stars, or dream stars, they are supposed to bring luck when you make them and more luck if you give them away. Whether or not you believe that, they look beautiful arranged in a glass bottle or bowl, or strung together into garlands! |
| | Triangular Origami Bookmark This tiny origami bookmark is really easy to make and doesn't fall off the page when you open your book! Only the corner of the page is obscured by the bookmark, so you can keep the bookmark in place while you read. These would be great to mark several pages of a reference book – it's a nice (and attractive) alternative to sticky note markers! |
| | Paper Weaving Weaving doesn't just have to be used to make fabric! Use strips cut from magazine pages to weave a colourful and original design. Once you've finished weaving, you can easily turn your work into a stylish card or bookmark, or even wall art. |
| | Shadow Decorations Use the magical effect of candlelight to turn a papercut template into a striking shadow decoration. In this tutorial I'll show you how to make a stylish decoration in any shape you like, using only cardstock and a simple tealight candle. |
| | Paper Medallions (Tea Bag Folding) Don't let the name 'tea bag folding' put you off – you can perform this craft with any small squares of coloured paper! The resulting medallions can be used to decorate handmade greeting cards, embellish your wrapped gifts, or you could try adding a hanging loop to make an unusual Christmas decoration. |

You may recognise some of these tutorials from my old papercraft website, Folding Trees.
Eve Henley and I started Folding Trees in June 2008, at a time when paper crafts were often neglected among modern crafters. We saw the need to showcase that paper crafting encompasses much more than just scrapbooking, and our goals were to collect the best tutorials, highlight inspirational paper creations from talented artists and crafters, and share our own paper crafts and tutorials.
We wrote close to 600 posts for Folding Trees and found a loyal following of well over 5,000 readers per day. In December 2009, we decided we had accomplished our mission to bring modern, stylish paper crafts to the world, and the site remained online as an archive from 2010-2015.  Although Folding Trees is now just a memory (apart from the above tutorials), it leaves a lasting legacy in the ongoing popularity of papercrafts.