Triangular Origami Bookmark
This tiny origami bookmark is really easy to make and doesn't fall off the page when you open your book! Only the corner of the page is obscured by the bookmark, so you can keep the bookmark in place while you read. These would be great to mark several pages of a reference book – it's a nice (and attractive) alternative to sticky note markers!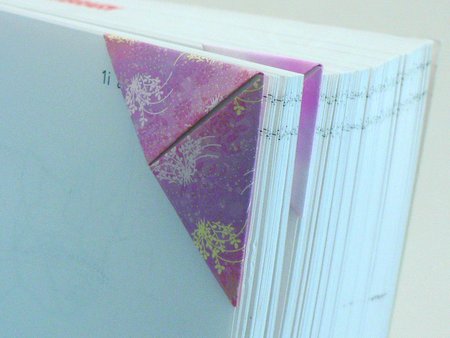 This tutorial is Donationware – the instructions are available for free, but if you like it please consider sending me a donation to show your appreciation: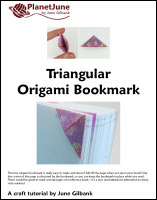 Send me a donation and receive the easy-to-print PDF version of the tutorial as a thank you!
Donations of any size are much appreciated. Just add the amount you wish to donate, and, once you have checked out and paid, your PDF will instantly be available to download from your PlanetJune account.
The complete instructions are available below, regardless of whether or not you choose to pay for them 🙂
This is a PlanetJune original tutorial. Please do not share or reproduce this tutorial; instead post a link to http://www.planetjune.com/bookmark
Instructions
You will need one square of origami paper per bookmark. I use 2″ squares and 3″ squares for my bookmarks; both work well and are easy to fold.
Note: As with all origami, this works best if you strongly crease each fold, so the bookmark will lie as flat as possible. You can do this with a bone folder, or just by running your thumbnail along the crease of each fold before moving on to the next step.
Start with a square of origami paper (below, left).
Fold it in half on the diagonal, with the coloured side facing out (below, right).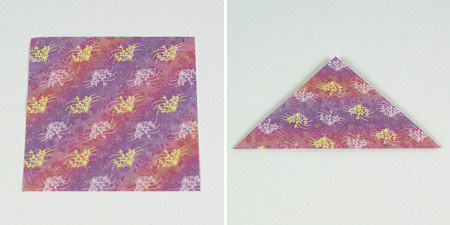 Fold the left corner up to meet the top point (below, left).
Fold the right corner up to meet the top point and form a square (below, right).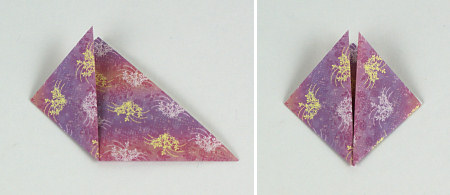 Open out both corners again and fold the front layer of the top point down to the middle of the bottom edge (below, left).
Open the front half back down and fold the remaining top point down to the middle (below, right).

Fold the front half back up again (below, left).
Fold the bottom left and right corners back up again (below, right).

Squeeze the sides gently so a pocket opens (below, left).
Tuck the left point down inside the pocket (below, right).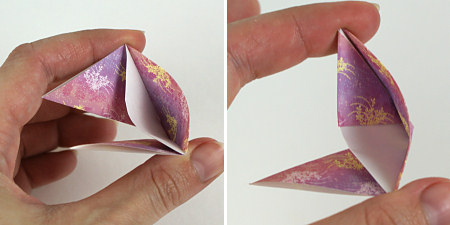 Tuck the right point down inside the pocket (below, left).
Your bookmark is complete (below, right)!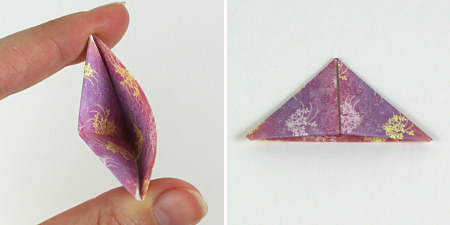 Slip the triangle over the corner of a page in your book to mark your page 🙂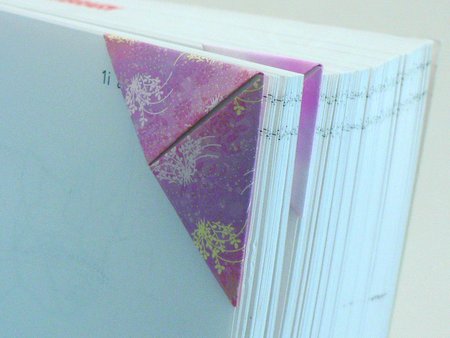 I hope you enjoyed this tutorial! Please leave me a comment if you did, and consider leaving me a donation. Thanks!
And I'd love to see a photo of your bookmarks in the PlanetJune Tutorials flickr group 🙂
Thank you so much for taking the time to leave a comment here! I read and appreciate every comment. I only respond to questions here on the blog, so please return to this page to see my reply, or check the box below to subscribe to new comments by email.
Please note that I can only answer questions related to PlanetJune patterns and tutorials (see details), and I can only respond to questions or comments written in English. Thank you :) - June