Jess of How About Orange posted an inspirational round-up of 3D paper holiday ornaments. I have a nice stock of pretty origami papers that I never get around to using, so this seemed like a sign…
I decided to try the many pointed star – the tutorial is in the form of a video (really useful because you can pause and rewind to re-watch the tricky parts). Wouldn't this star look great hanging on a Christmas tree?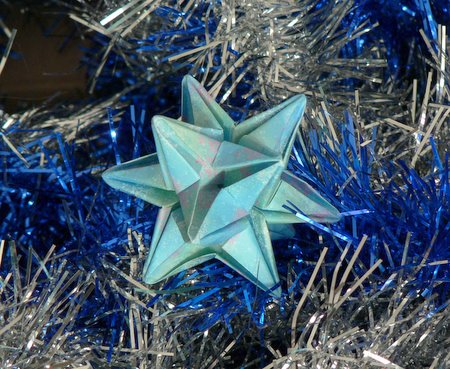 Technically, this is an example of modular origami, because one star is made from six sheets of paper, although there is no cutting or gluing involved. I used six 3″ squares of origami paper and the finished star is about 2.5″ at it's widest points.
I got stuck at one point in the folding sequence, but I watched that part of the video a few more times and once I'd figured it out, it was all plain sailing from there. Assembling the star was quite easy too. It's quite time-consuming to make, but watch a DVD at the same time and the time will fly by!
PS – Apologies to any mailing list subscribers who just got this post e-mailed to them! Slight technical glitch…