It's time to release another commissioned design!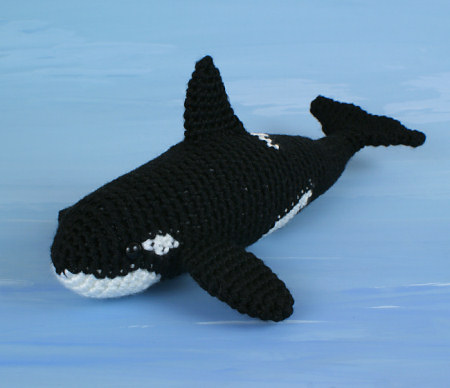 The Orca, or Killer Whale, was a design challenge I was looking forward to – the distinctive black and white markings weren't going to be easy to replicate. Biased (slanting) stitches just wouldn't cut it with this design, and neither would zig-zag colour changes, so I've spent weeks swatching to refine and improve my colour changing techniques to give smooth, symmetrical colour changes over practically the entire length of the orca's body. Here's the result: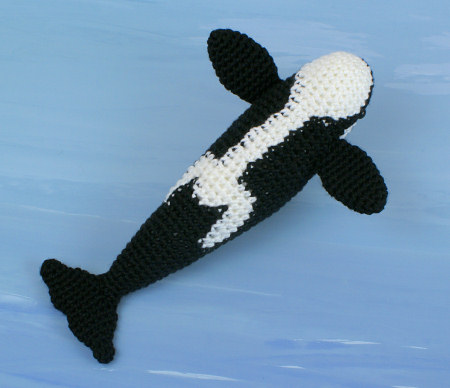 I have to state right now that this is definitely an intermediate-level pattern: although it is worked in pure amigurumi-style (it uses only single crochet stitches with increases and decreases), it includes a lot of colour changing to create the beautiful smooth killer whale markings down the entire underside of the body. So, while it isn't difficult in terms of crochet stitches, it is vital that you pay close attention to the pattern in every round that includes a colour change, and make the increases and decreases in the correct places, otherwise the colour pattern will shift. This is a pattern that requires concentration!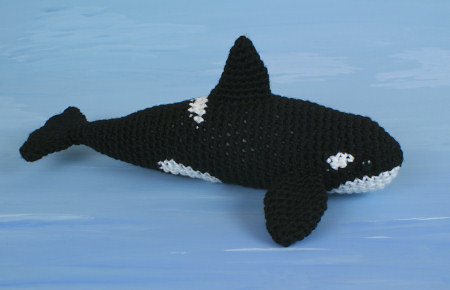 While we're looking at details, I'm also debuting a new technique that makes a perfect whale tail – this one is really quite magical, and took me 5 attempts to perfect, but, if you just follow the pattern carefully, it's easy to replicate this amazing shape.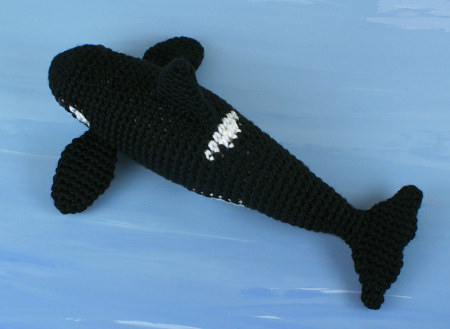 If you're up for the challenge, I think you'll find this pattern is worth it – the end result has a level of detail in colour and shaping that makes it a truly special amigurumi. Plus, I think this orca is really cute; she's definitely one of the nice fish-eating killer whales, not the scary seal-eating kind…
I'd like to thank everyone who commissioned this design – thank you for trusting me to do justice to something so complex! I hope you're happy with the result and you'll enjoy making your own spectacular orcas.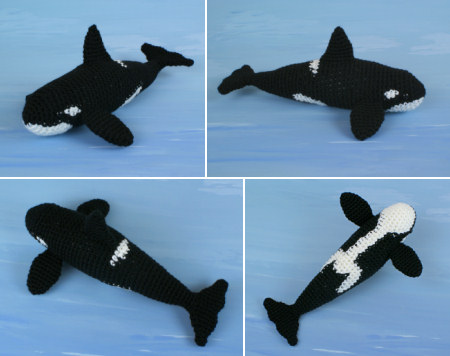 How about a little ravelry love? Click to favourite or queue my Orca design:
And, if you didn't get in on the commissioning action but you're ready to get orca-making, you can pick up the orca (killer whale) crochet pattern from my shop right now!
(The next design that was commissioned is the Red Panda, and I'll be collecting the pledge monies shortly. I can't wait to get started on that one; red pandas are adorable…)