I thought it might be a nice idea to make some themed series of smaller toys, so here's my first set, Woodland Creatures (click pic for larger version):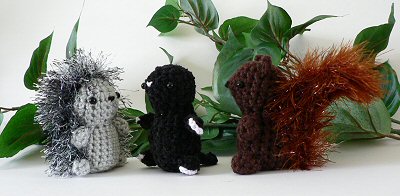 Squirrel, Mole and Hedgehog crocheted Mini Fuzzies.
The mole is a different kind of fuzzy… I used chenille yarn so he feels very velvety and mole-ish.
UPDATE: Looking for the pattern? You can find the Mini Fuzzies Woodland Creatures crochet pattern in my shop.