I just finished the last of the page proofs for the book – now all that remains is waiting 5 more months for the release date! With such short deadlines, it's been an intense and exhausting process, but the advantage is that we don't have too much longer to wait until you can see what I've been working so hard to create. In the meantime, here's the latest PlanetJune news:
Press Mentions
I've just updated my Publications and Media page with new publications and press mentions from the past few months: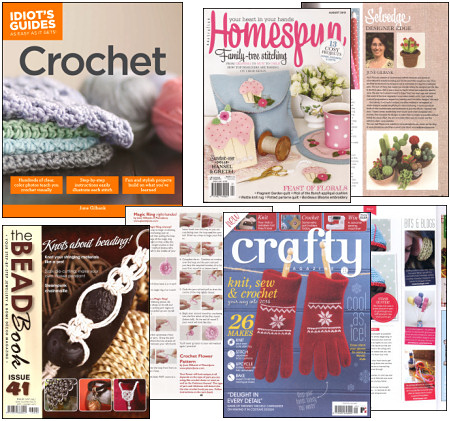 Clockwise from top left:
Hey look – it's my new book, Idiot's Guides: Crochet!
Homespun magazine interviewed me about my Succulent patterns.
My Amigurumi balloons were featured in Crafty magazine.
My Magic Ring tutorial was published in The Bead Book.
These publications hail from the US, Australia, UK and South Africa – it really is a small world, these days. It's always an honour to be asked to appear in a magazine, and I can't believe it's taken me so long to get a chance to acknowledge these features. (If you found me through any of these magazines, here's a long overdue welcome!)
Spring/Easter CAL
The PlanetJune Spring/Easter CAL runs through March and April, and includes a wide range of patterns: Spring flowers, St Patricks Day and Easter designs, and lots of baby animals! Join us in the PlanetJune ravelry group for this CAL by making any of the PlanetJune patterns pictured here: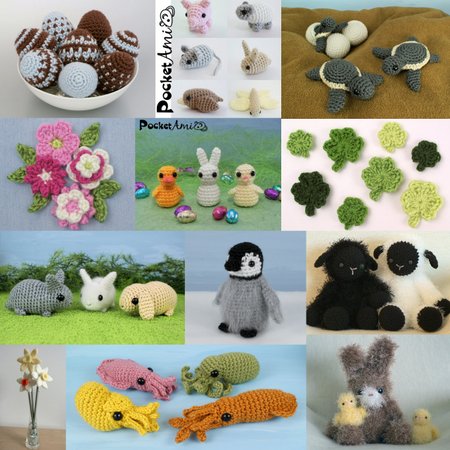 For full details, please see the CAL thread on ravelry – I hope you'll join us there!
(There'll also be at least one new addition to the Springtime patterns during this CAL – I have several new designs in progress that would fit the theme, so we'll just have to wait and see how many I can complete in time…)
Ravellenic Games Report

The medals have yet to be awarded, so we don't have a team total yet, but Team PlanetJune performed brilliantly, with dinosaurs and lots and lots of baby turtles being the most popular projects. Well done to all the team members! Here's a sampling of the entries (click the pic to see them all on Ravelry):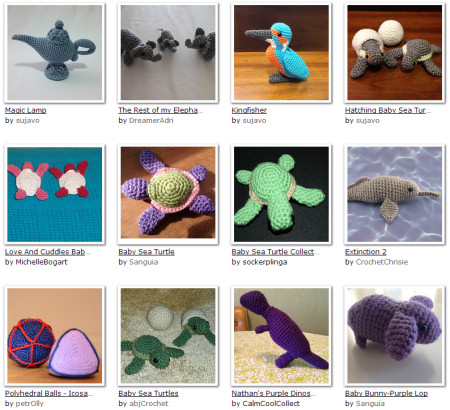 I failed to win any medals myself, as last-minute book commitments meant I had to postpone my Meerkat design. I'd still like to continue my plan of sharing my Meerkat design as I complete it, so I've decided to instead chronicle my design process as a series of blog posts, so you can follow along with me here – I hope you'll find it enlightening to see what goes into a PlanetJune design!
Review and Win contest
February's 'Review and Win' winner is Heather L, with her review of my AmiDogs Basset Hound: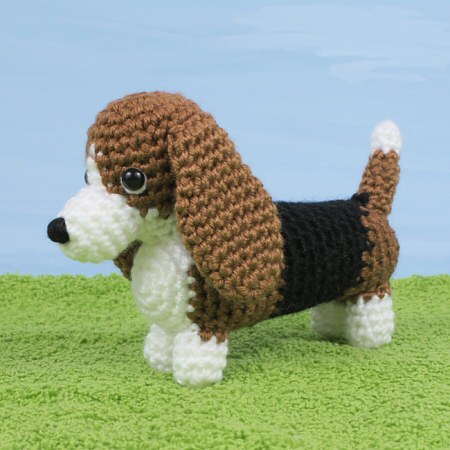 June's attention to detail makes for a super cute finished product. Floppy ears, droopy eyes, and a little legs. As always, June's instructions are so well written that you are essentially assured a wonderful result.
Congrats, Heather – I'll email you to find out which pattern you'd like as your prize 🙂
---
Is the fact that I've succeeded in publishing this update on March 1st a sign that I'm finally starting to feel a little control over my life again? Let's say it is. The book is finished, my taxes are finished – that means all my critical deadlines are finally out of the way and I can finally take some time to relax. Remind me not to sign up for anything else time-critical any time soon!
The looking-after-myself plan that I talked about in my 2013 Year in Review starts now – and not a moment too soon…