Today is my furbaby Maui's 6th birthday. (Well, we adopted him when he was a year old, so we don't know his actual birthday, but we settled on this date for him so it wouldn't be too close to Christmas.) If you don't know my lovely boy, here he is: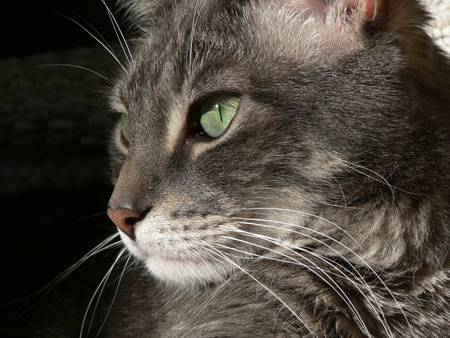 Awww, handsome cat!
The actual subject of this post is making toys for your cat, and whether it's worth the effort. I'd like to demonstrate with a couple of toys that I made for Maui three years ago (please excuse the photos – my photographic skills have clearly improved since 2007!)…
First up, when I made my Fuzzballs crochet pattern, I made a cat-safe version with stitched-on felt eyes and a black yarn smile, and of course the secret ingredient of a little catnip inside with the stuffing.


Maui's fuzzball is top right in this photo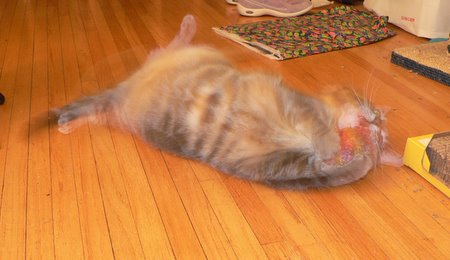 Yep, it's safe to say that he liked this one! Groovy catnip-induced motion blur is purely intentional 😉
And secondly, I spent an entire evening stitching up this lovely little mouse as Maui's third birthday present. This was the one that made everyone think I was crazy for spending all that effort on 'just' a cat toy: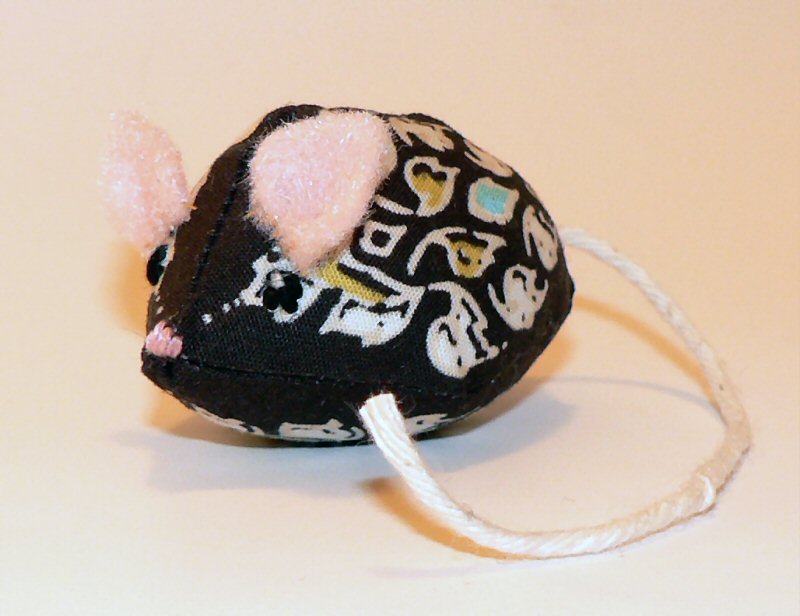 Yes, I know it's a lot of detail for a cat toy!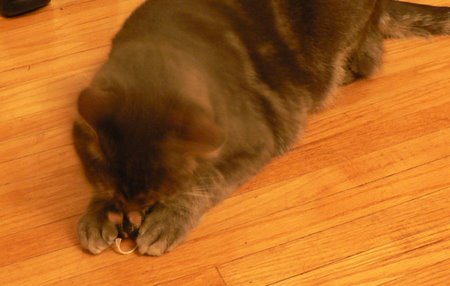 Maui with his favourite toy
Fast forward three years. Both of these toys were hugely successful with Maui, and he still plays with both! So now for the big question: how have they fared after three years of serious mauling by a miniature tiger?
The fuzzball lost its felt eyes and mouth some time last year, but the crocheted stitches have all held up, and the stuffing is still in place inside (although it does show through the stitches in places).
As for the lovely mousey, those felt ears lasted for over a year before falling off – and they were only made of acrylic craft felt! I tied a knot in the end of the tail before the string had unravelled too much, and the tail is still intact and firmly attached to the body. And the eyes are still fine too, which is quite surprising given that this is Maui's absolute favourite toy and has seen a lot of play over the past three years!
So, is it worth the time to make toys for your cat? YES. Absolutely. Maui by far prefers the toys I've made for him to almost all of the many toys we've bought from pet shops, and they've certainly held up better. Plus it still makes me happy to see him enjoying the results of my work, years later.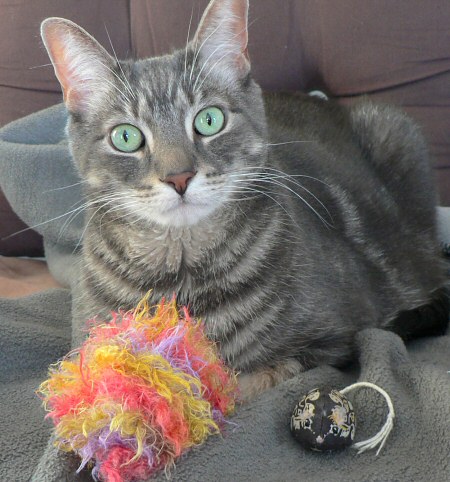 The birthday boy today, with his handmade toys
Happy birthday, Maui!