I made this pretty pop-up card a couple of weeks ago, but had to wait until it arrived with its recipient before I could post about it!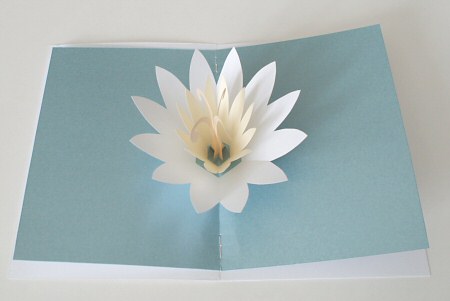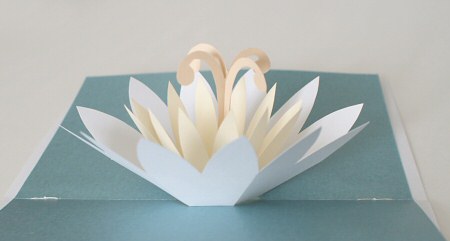 It's a lotus blossom that we featured on Folding Trees last year – such a pretty design! You can now see my review of the process of making the card, below.
---
Tutorial Review: Lotus Blossom Card
This review was originally published on my old papercraft site, Folding Trees.
In progress
Cutting the template pieces: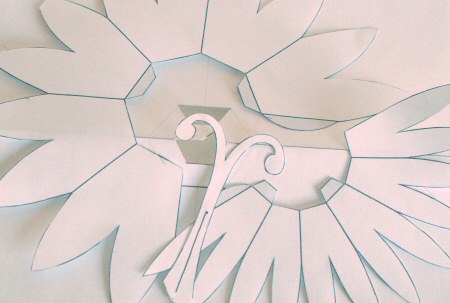 Finished piece
The finished card, open: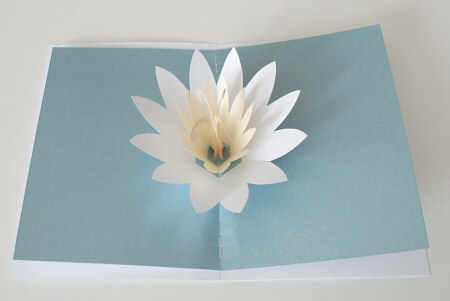 And from the side: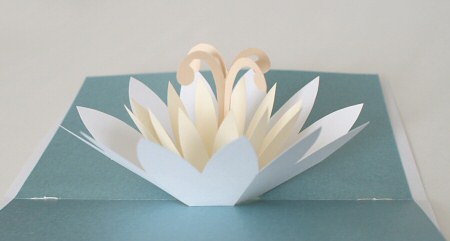 Notes on this tutorial
The template comes on 2 pages. Unfortunately it's designed for 11.7″ long paper, so for folks with letter-sized or A4 paper, the template is slightly too long and a couple of edges will be cut off. I didn't realise this, so I had to draw the missing bits back onto my printouts by eye before cutting them out. You can avoid this by making sure "Shrink to Printable Area" is selected in Adobe Reader when you go to print.
I found it slightly annoying to have to cut everything out twice (once on printer paper to make the templates after printing, and then again on the coloured cardstock after tracing the templates), but you could save and reuse the printed paper templates, so you only have to do that step once. You could print directly onto your cardstock, but as each piece is cut from a  different colour, you'd waste a lot of cardstock that way.
The card came together easily enough – the directions are very simple. The stamens were a bit fiddly to cut and to attach; I'd advise that you treat them gently so you don't bend them.
The finished card is stunning and the pop-up effect works well. You could modify the idea with different coloured cardstock, or, if you're feeling very creative, change the shape of the petals to make a different type of flower. If you haven't checked out the tutorial yet, I recommend you take a look!
Level of difficulty

Time

Cost

Link
The original tutorial is available here.