I'm still deeply ensconced in my secret project, so I haven't had anything crafty to post about recently – hopefully that will all change soon! In the meantime, I thought I'd share a quick nectar recipe for those of you who are lucky enough to live in an area visited by hummingbirds.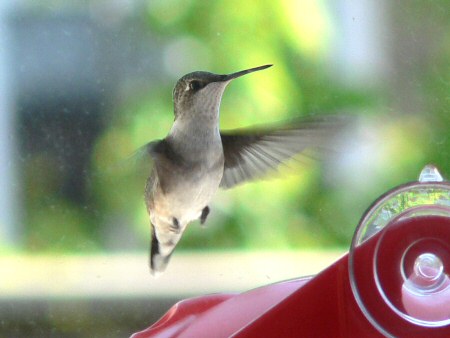 Hummingbirds are fascinating little miracles – so tiny and so fast, it's hard to believe they can exist! They are only 3-4 inches long from beak to tail and they beat their wings around 60 times per second, which produces the humming sound for which they were named. Coming from the UK, I had never even seen a hummingbird until a couple of years ago, and now I can see Ruby-throated Hummingbirds daily (in summer) in my own garden, just by putting up a little nectar feeder for them 🙂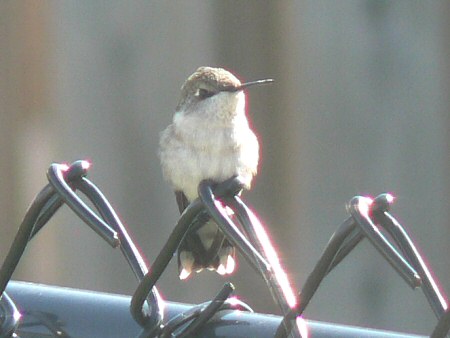 You can buy powdered hummingbird nectar, but it's a bit messy to prepare, and expensive. It's actually super-simple to make your own nectar for feeding hummingbirds: all you need is sugar and water! Hummingbird feeders are red, so the colour of the feeder will attract the birds and there is no need to add red colour to the nectar.
Ingredients: 1 part granulated white sugar and 4 parts tap water. (I use 1/2 cup sugar and 2 cups water, which makes a 2-week supply for my hummers.)
Place the sugar and water in a saucepan and bring to the boil, stirring occasionally.
Cover the suacepan and boil the nectar for a couple of minutes (this retards mould growth).
Allow to cool to room temperature, then pour into a clean hummingbird feeder.
Store leftover nectar in the fridge for up to 2 weeks.
Replace the nectar and clean your feeder twice a week to prevent mould.
Enjoy the beauty of the visiting hummingbirds!