Exciting News…
Time to let the cat out of the bag: I've just signed the contract to write a new crochet book! This is the first book offer I've actually wanted to accept since writing the Complete Idiot's Guide to Amigurumi, and I'm already giddy with anticipation about this new book; it's exactly the book I wanted to write next.
My goal as an author is to write books that become valuable long-term reference sources on your bookshelf, not just collections of patterns. And that, I'm afraid, is all I'm saying for now – I'll share more details as we near the publication date!
But, of course, I have many months of work ahead of me before I can share my fabulous new book with you, so please excuse me if I'm slower to respond to questions, and less prolific with new designs, for the rest of this year; I'm going to be working very hard to get all the pieces of the book ready so it can be published in late summer 2014 (if you're familiar with publishing schedules, that's a pretty fast turnaround)!
If you need crochet help while I'm in the book-writing zone (or at any time), I recommend the PlanetJune Ravelry group as your first port of call – you're guaranteed to get fast and friendly advice there, and I'm always lurking to weigh in if nobody else has an answer for you 🙂
And, in other news…
Review and Win contest
June's 'Review and Win' winner is Susanna V, with her review of my Fruit Bat: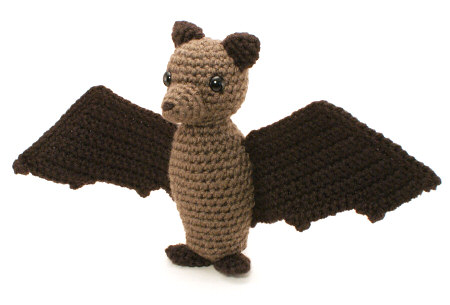 This was the first PJ design I ever bought and it's still probably my favorite. I love bats, and this guy is the perfect mix of realistic but still cute. It's actually fairly easy to crochet and the shapes are basic. The most challenging part for me was sewing the wings on straight; it's very easy to start angling without realizing it. Also, if you've only ever done amigurumi, you'll need to know how to do standard crochet rows for the wings, but it's very easy and the simple trick for making the points on the wings really adds a lot to the design. I'll never tire of making this one!
Congrats, Susanna – I'll email you to find out which pattern you'd like as your prize 🙂
Fruit-Along CAL
If you feel like a fast and refreshing crochet project, we decided to have an extra crochet-along throughout July, featuring all my fruit designs:

As a bonus, my Apple, Pear, and Citrus patterns are all donationware, so you can pay as much or as little as you like for the patterns (or nothing, if you can't afford to pay at all!) Join the fruity fun in the PlanetJune group on Ravelry 🙂
* * *
Okay, now I'd better get back to working on the new book! (Eek!)