This is Day 1 of my week of posts telling you all about my new book, Idiot's Guides: Crochet, which will be released in 8 days, on 5th August. For my main intro to the book, how to order your copy, and the other posts in this series, please see my main IG: Crochet info page.
Overview
Idiot's Guides: Crochet was an ambitious project, as I had so much valuable content to include. The end result is 264 pages and 750g (that's over 1.5lbs!) of crochet techniques and beautiful patterns. To start this week, I thought I'd give you a taster of why this book is unique and special…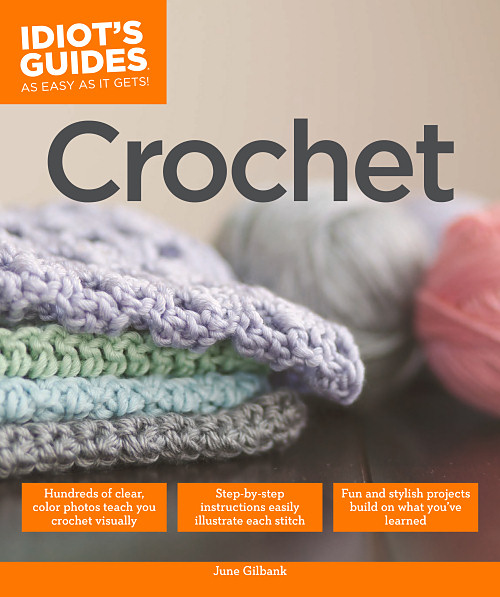 Tutorials
If you've bought my Complete Idiot's Guide to Amigurumi, you'll know I like to cover every detail in my books, so you'll have a valuable reference source you'll consult over and over again as you want to learn about new techniques or refresh your memory on something you haven't done for a while. But, in this book, I've been able to go into much more detail, starting from the very basics of crocheting, and creating a clear, easy-to-follow, comprehensive guidebook, with hundreds of full-colour close-up photos.
I'll share more about the tutorials in tomorrow's post.
Tips and Tricks
If you're already an intermediate or advanced-level crocheter, please don't think there's nothing in this book for you! I've included all my helpful tips and tricks throughout the book – I bet you'll find at least something you didn't already know in there…
Patterns
And my patterns are definitely not only for beginners. Although they are all easy to intermediate level, I didn't let that stop me from creating beautiful, elegant designs for every project. You'll also find all the pattern extras that I always include in PlanetJune Accessories designs: full text instructions, charted stitch diagrams, schematics, and helpful resizing tips so you can customise your project with my guidance.
I'll reveal details of all my patterns on Thursday and Friday.
Modifications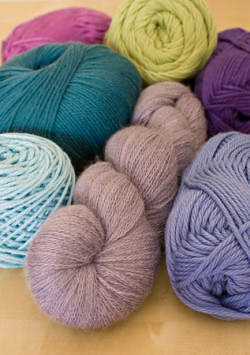 I strongly feel that crochet patterns are not just there to be followed to the letter: a good pattern should be a jumping-off point, and crocheters should be emboldened to change colours, finished size, yarn type and thickness, and know you can still end up with beautiful results and have created something uniquely your own, using a yarn you really love.
I've seen the lovely results of this time and again with the projects people have made from my PJ Accessories designs, and yet most patterns are written so rigidly, without inviting the possibility of making your own tweaks. In IG: Crochet I encourage this kind of customisation, and include tips with every pattern as starting points for making your own modifications.
(Next week, I'll be showing you some projects I've made by modifying the book patterns, so you can see what I mean!)
Photography
This book was a whole new experience for me, as it had 2 photographers: I photographed my hands and my test samples for all the tutorials and technical photos, but all the stylish photos of my finished projects and the appealing photos on each chapter opener page were taken by the talented photographer Becky Batchelor (who also did the graphic design and layout).
This means you get the best of both worlds: my clear, close-up detailed photos wherever I'm teaching you something, and Becky's gorgeous eye-candy photos everywhere else. They show off my designs beautifully and make the book a pleasure to flip through and enjoy visually.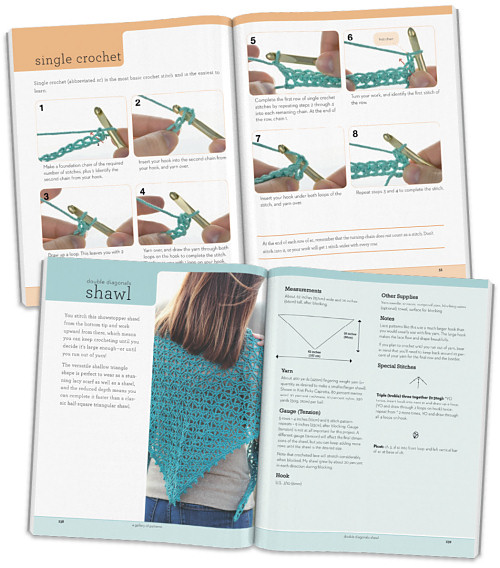 Spot the difference? The top spread has my close-up technical photos and the bottom spread includes one of Becky's lovely photos.
---
Throughout the rest of this week, as a countdown to the release date of August 5th, I'll be giving you more detail about the different aspects of IG: Crochet:
Tuesday: Tutorials & Practice Projects
Wednesday: Stitch Galleries & Motifs
Thursday: Patterns (part 1)
Friday: Patterns (part 2)
Stay tuned!
Note: cover images reprinted with permission, Alpha Books, a member of DK.